The IPL's Most Popular Team Isn't Who You Think!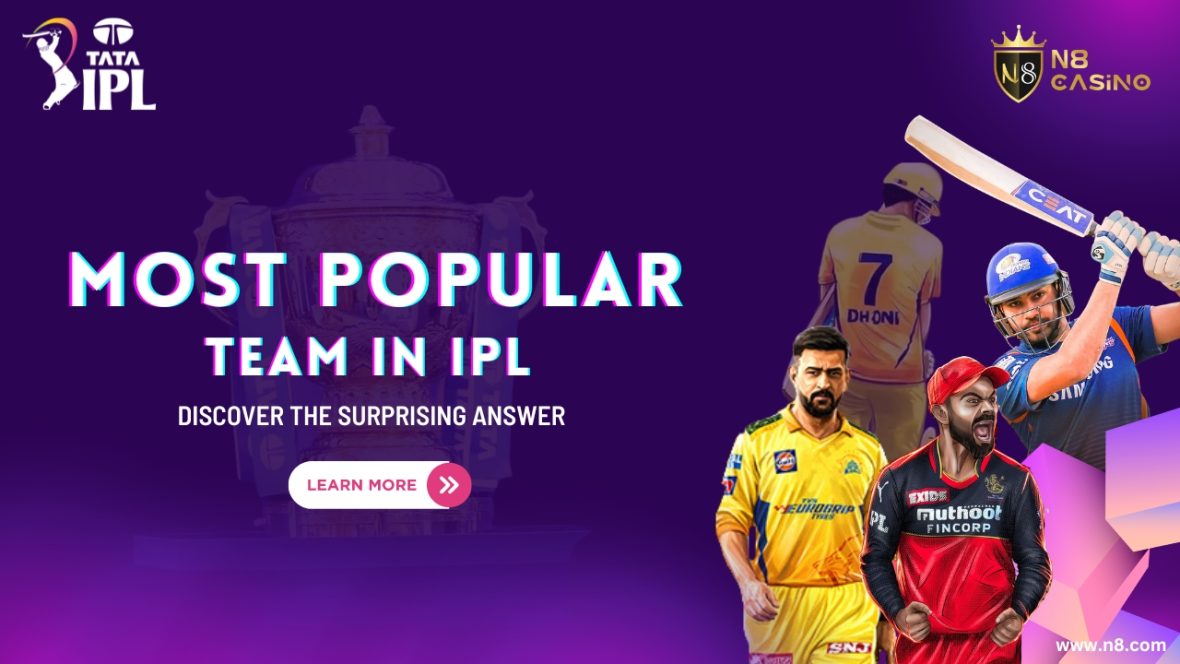 The IPL, one of the world's most-watched cricket leagues, boasts millions of ardent fans rooting for their favourite teams. However, have you ever wondered which squad is the IPL's most popular team? It's not necessarily the team with the most victories or biggest names, and the answer may shock you. Delve further to discover which teams are the most popular and who grabs the top spot in IPL popularity.
Introduction to Tata IPL 2023 and its teams
Yes, yes, we get it, you already know what the IPL is all about. So we'll keep it super short and move on to the teams.
The Indian Premier League (IPL) was established in 2008 as a professional Twenty20 cricket league in India. Ten teams, each representing a different city in India, are competing in the 2023 Tata IPL. They are:
Chennai Super Kings (CSK) captained by MS Dhoni
Delhi Capitals (DC) captained by David Warner
Gujarat Titans (GT) captained by Hardik Pandya
Kolkata Knight Riders (KKR) captained by Nitish Rana
Lucknow Super Giants (LSG) captained by KL Rahul
Mumbai Indians (MI) captained by Rohit Sharma
Punjab Kings (PBKS) captained by Shikhar Dhawan
Rajasthan Royals (RR) captained by Sanju Samson
Royal Challengers Bangalore (RCB) captained by Faf du Plessis
Sunrisers Hyderabad (SRH) captained by Aiden Markram
Factors that contribute to a team's popularity in IPL
Many things contribute to an IPL team's level of popularity. The team's performance on the field is a major factor. More people tend to follow teams who are constantly successful on the pitch. The team's superstars also play a role because of their star power and charisma. Popularity can also be affected by the city or region that the team represents, since most fans root for local clubs. Finally, the team's owners (superstar Shahrukh Khan's ownership of KKR, for instance) can impact the team's and the league's popularity through marketing and branding initiatives.
Why how popular an IPL team is matters
One reason why the popularity of IPL teams matters is that it has created an environment of healthy competition. Fans from all corners of the country tune in to watch their teams compete, and this has fostered a sense of regional pride and unity. Moreover, the popularity of IPL teams has also given rise to a burgeoning sports industry in India.
Secondly, the IPL has not only provided a platform for the growth of cricket as a sport but has also led to the creation of numerous job opportunities. With the increasing popularity of the league, there has been a surge in demand for coaches, trainers, physiotherapists, and support staff, among others. Additionally, the league has attracted investments from big corporations and has generated significant revenue, contributing to the growth of the Indian economy.
Finally, and perhaps most importantly, the popularity of IPL teams also has a significant impact on the morale of the players. When fans cheer on their teams, it generates an upbeat atmosphere that can inspire the players and lead to better results. As a result, the tournament as a whole may benefit, and the team's performance may improve.
Also Read: A Complete Guide on IPL Betting 2023

Most Popular IPL Teams in 2023
Chennai Super Kings
With close to 24 million fans, Chennai Super Kings is the IPL team with the most supporters and the largest sports franchise in India, out of a total estimated 120 million cricket followers in India. Despite the possible influence of followers from outside India, these astonishing data suggest that nearly one-third of cricket fans in India follow CSK on social media.
Why is CSK the most popular team in the IPL?
Some of the team's popularity can be attributed to its skipper, Mahendra Singh Dhoni, and his star power. He's built up a reputation of being a master finisher and for pulling out his team from inextricable situations. Dhoni's leadership and cool attitude on the pitch have garnered him a legion of supporters throughout the world. Dhoni's popularity as the team's public face has boosted CSK's reputation and revenue.
In addition, the team has a long history of success in this competition. CSK has won four championships and made the playoffs on multiple occasions, earning the team a reputation for reliability. Because of this, they have been able to attract a consistent following of fans.
Second, CSK has featured some of cricket's most prominent players throughout its history. Over the years, the squad has included legends like MS Dhoni, Suresh Raina, and Ravindra Jadeja. In addition to helping the club win games, these players have also become well-known in the cricket community, which has boosted CSK's profile.
CSK's unique brand identity is also a big part of the team's success. The yellow and blue of the team's uniforms and the lion logo are instantly recognisable as representing CSK. Catchy phrases like "Whistle Podu" and "Yellove" have helped spread the team's name and increased the team's popularity.
Don't believe us? Let the numbers speak.
CSK Social Media Followers
YouTube – 2.81 Million
Instagram – 11.6 Million
Twitter – 9.5 Million
Also Read: The Best IPL Captains of All Time

2. Mumbai Indians
When it comes to IPL fan support, the Mumbai Indians are in second place, behind only the Chennai Super Kings. They have an active following among their 40+ million Instagram, Twitter, and Facebook followers. The team's success over the years only increased their appeal to spectators; they now hold the record for most IPL championships won with five (in 2013, 2015, 2017, 2019, and 2020).
The Mumbai Indians are one of the most successful teams in the Indian Premier League, having won the tournament five times. It's not surprising that they've amassed a huge fan base—over 40 million people follow them somewhere online. They've become a fan favourite thanks to their prolific use of social media and reliable play on the pitch. Another factor in the team's success is the presence of well-known players like captain Rohit Sharma.
MI Social Media Followers
YouTube – 2.95 Million
Instagram – 11.7 Million
Twitter – 8 Million
3. Royal Challengers Bangalore
Royal Challengers Bangalore have amassed a large fan base despite having never won the Indian Premier League. In fact, they have more than 23 million fans and followers between Facebook, Twitter, and Instagram alone. The dedication and perseverance of the RCB fan community is on full display here.
Without a doubt, the presence of top player Virat Kohli is a big aspect contributing to this following. For many years, he has been an integral part of the RCB team and a fan favourite, both of which have contributed to the team's success in attracting and keeping a big fan base. RCB needs Kohli to stay healthy if they want to keep their fans happy, and winning the IPL would go a long way towards fulfilling that potential and making their fans even prouder.
RCB Social Media Followers
YouTube – 3.57 Million
Instagram – 10.4 Million
Twitter – 6.6 Million
Also Read: Who are the Most Dangerous Batsmen in IPL History?


4. Kolkata Knight Riders
The Kolkata Knight Riders now hold the fourth spot on the list of the teams with the most fans following them.
The owner of the Kolkata Knight Riders, Shahrukh Khan, as well as Juhi Chawla, have a considerable following among the team's fans. In addition, Knight Riders have been crowned IPL champions on two separate occasions, in 2012 and 2014.
KKR Social Media Followers
YouTube – 1.16 Million
Instagram – 3.6 Million
Twitter – 5.1 Million
5. Rajasthan Royals
In the Indian Premier League 2023, the Royals have extremely devoted fans as well. The inaugural season of the Indian Premier League was won by Rajasthan in 2008.
After that, Sanju Samson led Royal to the final of the Indian Premier League in 2022, where they finished in second place. Their captain Sanju Samson has a lot of fans who consider that he always gets a raw deal from the BCCI. Due to their power-packed performances and partly due to their captain Sanju Samson's popularity, RR has attracted many followers.
RR Social Media Followers
YouTube – 680 K
Instagram – 3 Million
Twitter – 2.6 Million
FAQs
What is the most successful IPL team?
Mumbai Indians is the most successful IPL team with a total of 5 championship wins.
Which team has the largest fanbase?
Currently, CSK is considered as having the largest fanbase based on the total number of followers on social media.
What role do team owners play in a team's popularity?
Team owners play a significant role in a team's popularity. They are responsible for building a strong team, signing star players, creating a winning culture, and marketing the team to increase its fan base. They also provide financial backing and support to the team, which is crucial for its success on and off the field.
The Importance of Knowing IPL Team Popularity IPL Betting
As one of the most popular sports leagues in the world, the Indian Premier League (IPL) offers many opportunities for bettors to make profitable wagers. However, understanding the popularity of each team is crucial for successful betting. Popularity can impact a team's odds, performance, and the support they receive from fans. Therefore, it's essential to have access to reliable information on each team's popularity before placing a bet.
N8 is the best betting platform for IPL 2023 because it provides comprehensive data on each team's popularity, along with the latest odds, live-streaming, 24/7 support and other features. They also have special IPL bonuses and deals. Additionally, N8 offers a user-friendly interface and a range of secure payment options, making it an ideal choice for IPL betting enthusiasts.