How to Bet on eSports: A Beginner's Guide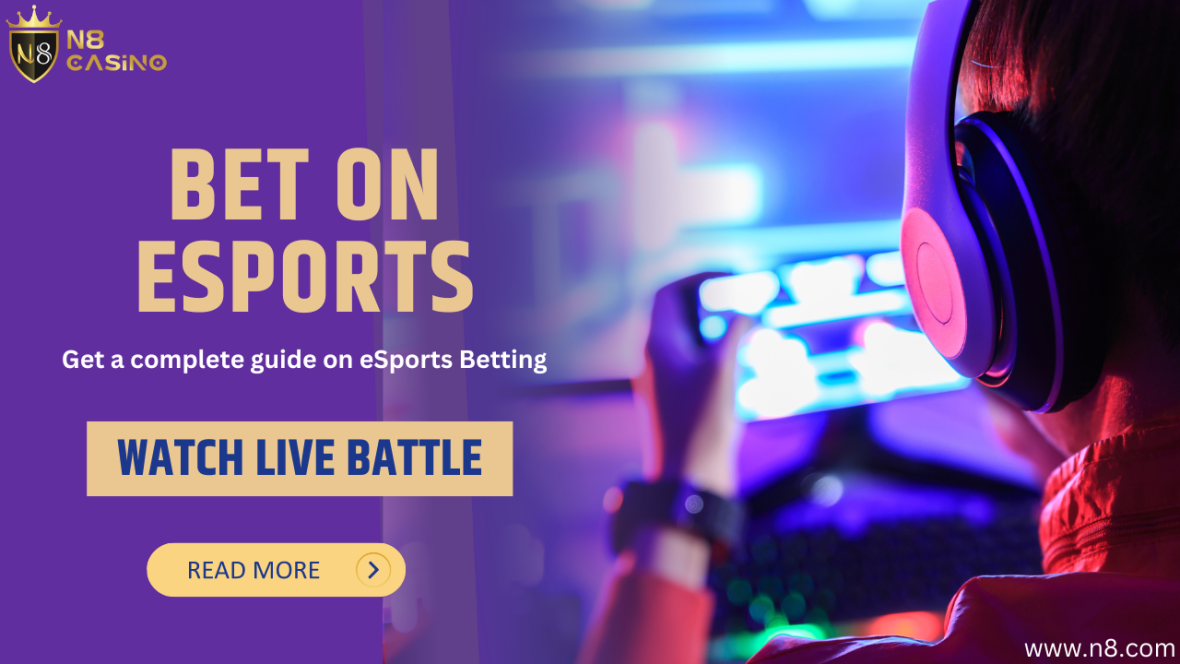 eSports is trending worldwide now and is all the rage in India too. If you were looking to get into esports betting, you're in luck! This beginner's guide will provide all the necessary information needed to become a successful esports bettor. From understanding how odds work, to familiarizing yourself with the current gaming landscape, by the end of this guide you will be ready to confidently place your first esports bet.
What is Esports Betting?
We need to define "esports" before we can discuss how to bet on esports. In esports, both teams and individual players compete against one another in online video game tournaments. While playing video games was formerly considered a solitary activity, the introduction of internet technologies has allowed players from all over the world to compete in online tournaments.
Huge esports tournaments have sprung up all over the world in the space of a decade, and the market for competitive video gaming is now estimated to be worth over a billion dollars. Many of the finest players in the world gather to play Dota 2 and League of Legends at prestigious tournaments like DreamHack, The International, and the Intel Extreme Masters, which attract thousands of fans.
The best part is that watching the action unfold in these esports competitions isn't limited to those who physically attend. You can watch your favourite esports teams and players in action via live streaming websites like Twitch.tv. And just like with cricket and football, you can bet on the outcome of these thrilling esports competitions.
Understanding the Esports Betting Market
The esports betting market is made up of a variety of different types of bets. From live-in-play wagers to futures, understanding the market can be overwhelming for those new to betting on esports. It's important to understand that the different types of bets offered can vary greatly from game to game, so it's important to do your research beforehand and familiarize yourself with the available options for each game. The five most common ones warrant a closer examination, so let's do that.
League of Legends (LoL) Betting
This eSport regularly draws larger crowds than traditional sporting events like the Super Bowl, making it one of the most watched in the world. There are ten players total, five on each of the two teams in this MOBA. Each player takes control of a different "champion," or in-game character, and together they must level up their champion's stats and abilities in order to take down the opposing team's "nexus," or home base. Some examples of LoL leagues around the world are the North American Championship Series, the European Championship, Champions Korea, and the Chinese Pro League. Both regional and international contests, such as the Mid-Season Invitational and the World Championship, are held annually.
PUBG Betting
The Indian esports betting business is also influenced by PUBG, or PlayerUnknown's Battlegrounds. Because of its accessibility (players can easily share their games online), social features (such as voice chat with other players), and rapid-fire pace, the game has gained widespread popularity across the country.
There are about 15 million Indians who play video games every day, with another 40 million who do so every month. The concept of the game's final player or team standing was borrowed from the Japanese film Battle Royale. Up to a hundred players can jump out of a plane onto a desolate island and battle to the death using only the weapons they brought with them. The victor is the last man (or team) standing.
Dota 2 Betting
Dota 2 is yet another massively successful multiplayer online battle arena game. It was built after the success of a community-created mod for the computer game Warcraft III: Reign of Chaos called Defense of the Ancients (DotA). Dota 2 is a sequel to Dota. In a manner analogous to that of League of Legends, two teams of five players each compete against one another in an effort to destroy the base or 'ancient' of the other team.
There are a number of different regional leagues for countries all over the world, such as those for North America, Southeast Asia, China, and Europe, in addition to a global competition known as The International.
Overwatch
Overwatch is another multiplayer first-person shooter, and it has two teams of six players each. These teams compete against one another to either secure and defend specific map spots or transport objects to specific map locations within a set amount of time.
The Overwatch League (OWL) is structured in a manner that is analogous to that of North American sports leagues, which feature city-based clubs that are permanent. There are a total of 20 teams competing, representing six different countries: the United States of America, the United Kingdom, China, Canada, and South Korea.
Counter-Strike Betting
This multiplayer first-person shooter game was initially developed in 1999 as a PC game, and since then, it has seen a number of fresh releases in addition to the creation of spin-offs. In this game, players are divided into two teams: Terrorists and Counter-Terrorists. Depending on which team they are on, the purpose of their team is either to defuse bombs and rescue hostages or to place bombs and seize hostages.
The game involves over numerous rounds, and players win within the game for accomplishing certain tasks. This may be used to purchase upgrades for their weapons before moving on to the next round. Counter-Strike: Global Offensive (CSGO) is the most popular game in the realm of electronic sports (eSports), and there are a number of regional leagues that span throughout Europe, Asia, the Americas, and Oceania. In addition to that, there is the ESL Pro League as well as the Major Championships (Majors).
Also Read: Know Before You Start Sports Betting: Odds And How They Work
Types of Esports Betting
The following are the three most common types of esports betting:
Betting and fixed odds via an online betting site
Privately arranged social betting between individuals
Skins bets and loot boxes, which frequently occur in-game
Some esports bets are game-specific, such as CSGO, League of Legends, FIFA, and DOTA2. For example, someone might bet on who gets the 'first kill' in a particular match.
Other bets that can be made include:
Who will win the match?
Who will win the tournament?
The final result
Odds/Evens bets entail predicting whether an odd or even number of games will be won, players will be killed, or rounds will be played.
And Over/Under bets, in which you wager on whether an esports team will score more or less than a predetermined amount set by the online betting site.
How to choose a good esports betting site
To help you find the best online esportsbook for your betting needs, we've come up with a list of questions you should ask yourself.
How trustworthy is this website?
How fair are their odds while placing bets on eSports?
What exactly do they contribute to a marketing campaign?
If I want to wager on an esports match, what options do I have?
Basic Things To Keep In Mind Before You Bet on Esports
Understanding the Esports Betting Market
There are numerous betting options available in the esports sector. A newcomer to esports betting may feel overwhelmed by the sheer variety of wagering options available, from live in-play wagers to futures. You should do your homework in advance and get familiar with the betting alternatives for each game because the types of bets offered can change drastically from one game to the next.
Researching Teams
Do your homework before placing a bet on any eSport. Knowing the teams and players in a tournament or match you plan to wager on is essential. The more you know about the relative merits of each team and player, the more confident you may be in your betting decisions. Take into account both teams' current hot streaks and head-to-head records to get a better feel for how a game will go.
Identifying Valuable Betting Lines and Spreads
If you want to win betting on esports, you need to take your time evaluating each wager. Lines and spreads for matches are often complex, so you should examine them twice before betting. Betting lines and spreads provided by bookmakers reflect the variety of possible outcomes in a given match; choose lines and spreads with which you feel most comfortable placing wagers. Prior to making any decisions, it is important to shop around at several bookmakers to find the greatest odds.
Setting a Skill-Based Profit Goal Before Placing Bets
Setting a skill-based profit target for yourself is crucial before making your first eSports bet. This will prevent you from blindly placing bets and instead encourage you to use your own judgement and betting expertise. It's important to know your limits, make a plan, and know when to bail out of a losing wager. The key to win betting on esports is setting a target based on your skill level and then tracking your wins and losses to get better over time.
Choosing the Right Betting Platform or Website
Which esports betting platform you choose will have a big impact on how well your bets do. Make sure that the online sportsbook you choose is reliable and has great customer service. Also, check to see if the site has any special bonuses or rewards that you can't get anywhere else. This could give you an edge over other bettors. You should also pay close attention to the types of bets each platform lets you make. Some platforms only let you bet on straight-up point spreads, while others may let you bet on props and other more specialised options. Lastly, check to see if there are any fees or extra taxes associated with esports betting and funding your account. This will depend on where you live.
Why choose N8 for esports betting
N8 fits all of the criteria mentioned above and more. We offer the best esports betting bonuses and promotions, including an amazing welcome bonus. All these bonuses are applicable on the handy N8 app too. 24/7 and personable customer service agents, multiple payment options, and easy and quick withdrawals round off the reasons why N8 is the best esports betting site in India.