Asia Cup 2023: The Match Schedule, Teams, Venue and Betting Tips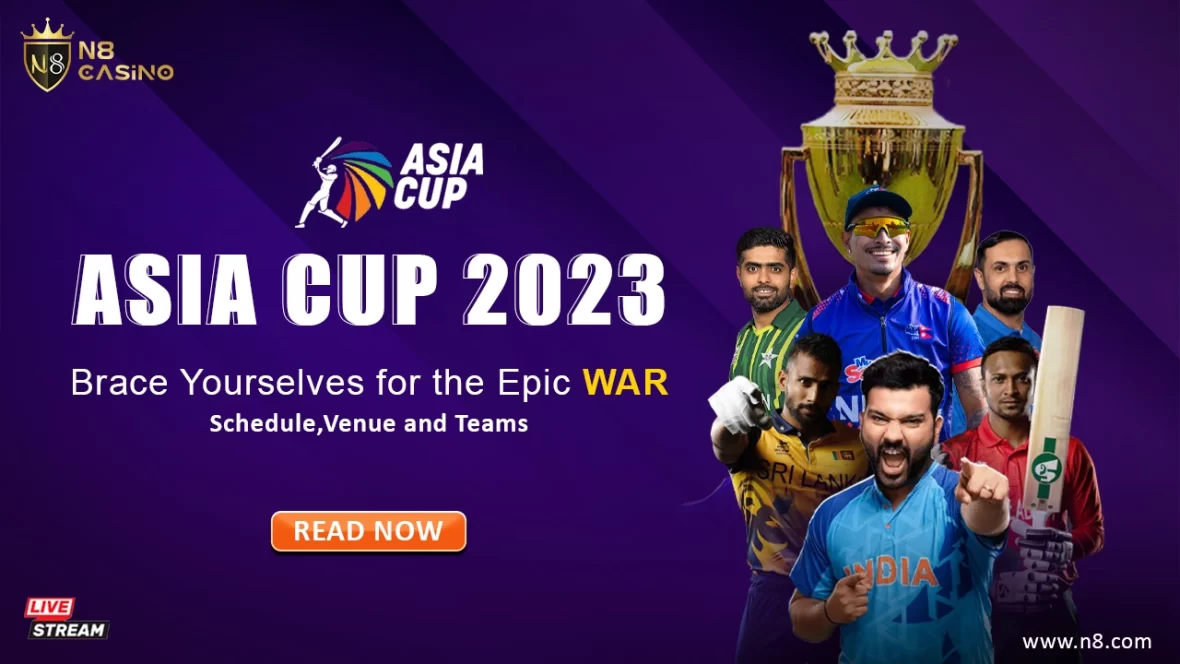 The Asia Cup is one of Asia's most trending cricket frenzies in the world. The ICC hosts the Asia Cup every 2 years. Did you know that the first Asia Cup was held in the UAE? This was in 1984. India won and Sri Lanka came in second. This page examines the Asia Cup 2023 Cricket schedule and other features.

What is the Asia Cup 2023?
The Asia Cup is the world's only tournament based on competitions between countries from the same continent. India has the best record in Asia Cup history. India has won seven Asia Cups so far. Aside from that, India has appeared in ten of the fifteen finals.
Sri Lanka is the second most successful Asia Cup squad, after only India. Sri Lanka has 6 Asia Cups to its name. Pakistan has two wins. The Asia Cup began as a three-country competition. Today, the popular tournament is a 6-team tournament.
Asia Cup 2023 Cricket: Schedule, Teams & More
The Asia Cup 2023 schedule is out. Pakistan will meet Nepal in the Asia Cup 2023 opener at Multan. The six powerful teams will compete in the fifty-overs event. It is divided into two groups that have three teams each.

The competition will take a hybrid form. Pakistan will host four games over two locations, with Sri Lanka hosting the rest. The historic encounter between India and Pakistan is scheduled for September 2 in Kandy. Following the six group-stage matches, the Super 4s will commence on September 6th. The final will be played on September 17 in Colombo between the first and second-place teams in the Super 4s. This is an excellent moment to bet on cricket.
On August 30, a match between Pakistan and Nepal will kick off the tournament in Multan, Pakistan. Lahore will host three further matches, including a Pakistan Super 4 match on September 6. This includes the September 17 championship game. The high-profile India-Pakistan round-robin match will take place in Kandy on September 2. A rematch in the Super 4 stage is also planned for September 10 in Colombo. The competition's commercial success is hinged on the India-Pakistan rivalry. It has a format designed for them to meet at least twice.
Asia Cup 2023 Schedule: Full Details Here!
One of the most widely anticipated tournaments on the cricket calendar is the Asia Cup. It gathers the greatest teams from the Asian continent to compete for supremacy on the pitch. The fierce rivalries and emotions that the Asia Cup 2023 generates are among the most fascinating aspects of the tournament. Matches between Ind vs Pak are always a hot topic. As always, it will be fun to watch Ind vs Pak match.
Group Stage Schedule:
| | | | | | |
| --- | --- | --- | --- | --- | --- |
| Date | Day | Time | Group Stage | Venue | Results |
| 30 August 2023 | Wednesday | 3:00 PM | Pakistan Vs Nepal | Maltan, PAK | PAK Won by 238 Runs |
| 31 August 2023 | Thursday | 3:00 PM | Bangladesh Vs Sri Lanka | Kandy, SL | SL Won By 5 Wickets |
| 02 September 2023 | Saturday | 3:00 PM | Pakistan Vs India | Kandy, SL | No Results |
| 03 September 2023 | Sunday | 3:00 PM | Bangladesh Vs Afghanistan | Lahore, PAK | BAN Won by 89 Runs |
| 04 September 2023 | Monday | 3:00 PM | India Vs Nepal | Kandy, SL | IND Won by 10 wicktes |
| 05 September 2023 | Tuesday | 3:00 PM | Afghanistan vs Sri Lanka | Lahore, PAK | SL Won by 2 Runs |
SUPER 4S STAGE:
| | | | | | |
| --- | --- | --- | --- | --- | --- |
| Date | Day | Time | Group Stage | Venue | Results |
| 06 September 2023 | Wednesday | 3:00 PM | Pakistan Vs Bangaldesh | Lahore, PAK | PAK Won by 7 wickets |
| 09 September 2023 | Saturday | 3:00 PM | Sri Lanka Vs Bangladesh | Colombo, SL | SL Won by 21 Runs |
| 10 September 2023 | Sunday | 3:00 PM | Pakistan Vs India | Colombo, SL | IND Won by 228 Runs |
| 12 September 2023 | Tuesday | 3:00 PM | India Vs Sri Lanka | Colombo, SL | IND Won by 41 Runs |
| 14 September 2023 | Thursday | 3:00 PM | Pakistan Vs Sri Lanka | Colombo, SL | SL Won by 2 wickets |
| 15 September 2023 | Friday | 3:00 PM | India Vs Bangladesh | Colombo, SL | BAN Won by 6 Runs |
Regardless of the first round:
Pakistan is A1
India is A2
In any case, if Pakistan or India does not qualify, then Nepal takes their place.
Sri Lanka is B1
Bangladesh is B2
In any case, if Sri Lanka or Bangladesh does not qualify, then Afghanistan takes their place.

Final
| | | | | | |
| --- | --- | --- | --- | --- | --- |
| Date | Day | Time | Group Stage | Venue | Result |
| 17 September 2023 | Sunday | 3:00 PM | India vs Sri Lanka | Colombo, SL | IND won by 10 wickets |
Asia Cup 2023: Team Details
The fans of cricket are awaiting the 2023 Asia Cup. There are a total of six different and competitive Asian countries that will compete for triumph. Let us look at each team's strengths and tournament goals.
1. India
The champions and cricketing powerhouse, India, entered the Asia Cup as one of the main contenders. India's team carries a strong heritage of success in the competition. It is led by a visionary captain and possesses a star-studded lineup of world-class batsmen and agile bowlers. Their ability to perform under pressure makes them a powerful force on any stage.
2. Pakistan
Known for their enthusiasm and unpredictability, Pakistan adds an element of intrigue to the Asia Cup 2023. Pakistan is armed with talented cricketers. They have notably fast bowlers and aggressive batters. Thus, they can demolish any opposition on their day. Their ability to claim spectacular victories makes them a team that should not be overlooked.
3. Sri Lanka
A squad with a storied cricketing past, Sri Lanka comes into the tournament with a lot to show. Despite recent problems, they have a well-balanced mix of seasoned campaigners and promising young candidates. Sri Lanka's amazing players are a great threat to opponents. This makes them a powerful team.
4. Bangladesh
Bangladesh is the rising Asian cricket star. The team is a part of the Asia Cup 2023 and is a well deserving one. Bangladesh is a team that is full of bright players. The team has made commendable progress in the field of cricket. So, it will be a treat to watch them this upcoming Asia Cup 2023. It is currently led by a charismatic skipper and has a dedicated fan base.
5. Nepal
The Asia Cup underdogs won their position with qualification matches. With their quick rise in the cricketing ranks, this energetic team has won the hearts of cricket fans across the world. Nepal's players are world-class. Their inclusion is going to be an interesting watch for cricket lovers.
6. Afghanistan
The tournament's dark horse, Afghanistan, has been a revelation in world cricket. They started from humble beginnings. Today, they have demonstrated incredible talent and determination to become a powerful force. Afghanistan's dangerous spinners and batsmen, paired with their team spirit will be a must-watch.
Why Asia Cup 2023 is the Best Time for Online Cricket Betting?
For good reason, the Asia Cup is usually regarded as one of the best seasons for online cricket betting.
1. High Competition
The competition involves high-profile matches against some of Asia's strongest cricketing nations. This level of competition and rivalry between these teams generates excitement. Additionally, it adds expectation among cricket fans, making it an appealing sports betting event.
2. Wealth of Opportunities
The 2023 Asia Cup cricket provides a wealth of options for online cricket bettors to place bets on various betting markets. Bookmakers offer numerous betting possibilities. For example, there are predicting match outcomes, individual player performances, team scores, and other facets of the game. During Asia Cup matches, numerous online betting platforms also provide live or in-play betting. This is why we believe it is the best time to indulge in cricket betting.
3. Steal-worthy Bonuses
Furthermore, during major cricket competitions like the Asia Cup 2023, online betting firms offer special promotions and bonuses to entice more bettors. The Asia Cup's global reputation ensures a large viewership and great interest in the tournament.
Also Read: Everything You Need to Know About Online Cricket Betting

Tips for Online Cricket Betting: Asia Cup 2023
Betting on cricket requires a good understanding of both the game and the betting process. That is why we provide you with the greatest cricket betting tips.
1. Weather Conditions
You must know the current weather conditions. You cannot play cricket if there is severe rain. So, the match will be affected. Strong gusts, humidity levels, and the amount of sunlight will all have an impact on the overall match. Clear sky and sunshine have been shown in the past to help batters score more runs.
2. Pitch Conditions
When generating match betting predictions, most individuals underestimate the value of the pitch. When a pitch is dry, as in stadiums in India and Pakistan, spin bowlers benefit. This is because the ball has more grip. On the other hand, surface conditions in countries such as Australia are more conducive. This is for fast bowlers because the seam moves when the ball bounces off the surface.
3. Team Performance
The recent form of the squad has an impact on the outcome. You need to analyse the previous matches of the team. Based on that, you can come to a conclusion for your bets. This makes determining who has the greatest betting odds for a specific cricket match much easier.
4. Cricket Betting Odds
For every cricket forecast, cricket odds play an important role. Before online cricket betting, it is important to look at the cricket odds. Cricket odds represent the likelihood of a specific event occurring during a match. It could be the game's outcome, individual player performance, or specific occurrences. For instance, it can be the number of boundaries or sixes. Once you learn the odds, it will help you place smart bets. Moreover, the cricket odds also determine the potential payouts.
N8 Cricket: Bet on the Best Cricket Betting Site
For several compelling reasons, N8 is the best location to bet during the Asia Cup Cricket 2023. To begin with, N8 is a respectable and trustworthy online cricket betting platform that is known for its security. Bettors can relax knowing that their finances and personal information are safe and secure.
In addition, N8 Cricket provides a large choice of betting markets specialised exclusively for the Asia Cup. Whether it is predicting match results, player performances, team scores, or other bets, N8 offers a diverse range of alternatives. We have everything to suit a variety of betting inclinations.
Moreover, a significant advantage of betting on N8 during the Asia Cup 2023 is the availability of live betting. This enables bettors to place bets in real-time while matches are played out. This increases the excitement and engagement of the betting experience. Bettors can place bets from anywhere at any time thanks to the N8 app. It offers a user-friendly interface and a flawless mobile betting platform. N8's technology provides a smooth and pleasurable betting experience whether using a computer or a mobile device. So, end the wait and download N8 app today!
FAQs
1. Can I place bets on Asia Cup cricket games online?
Yes, you can place bets on Asia Cup 2023 cricket matches online through reliable betting platforms like N8.
2. Is it allowed to bet on cricket online during the Asia Cup?
The legality of online cricket betting differs depending on where you live. Online betting is regulated and permitted in most. areas, So, before you engage in online betting, it is critical to check your local rules and regulations.
3. What kinds of bets can I place on Asia Cup games?
You can bet on the Asia Cup matches in a variety of ways. Place bets on the match winner, top run-scorer, top wicket-taker, total runs scored, total sixes, and more. N8 provides a diverse selection of betting markets.
4. Are there any bonuses or promotions for betting on Asia Cup cricket on N8?
Yes, during major cricket tournaments such as the Asia Cup, N8 offers special incentives and promotions.