Complete Guide to Tata IPL Online Betting 2023 
February 15, 2023
2563 Views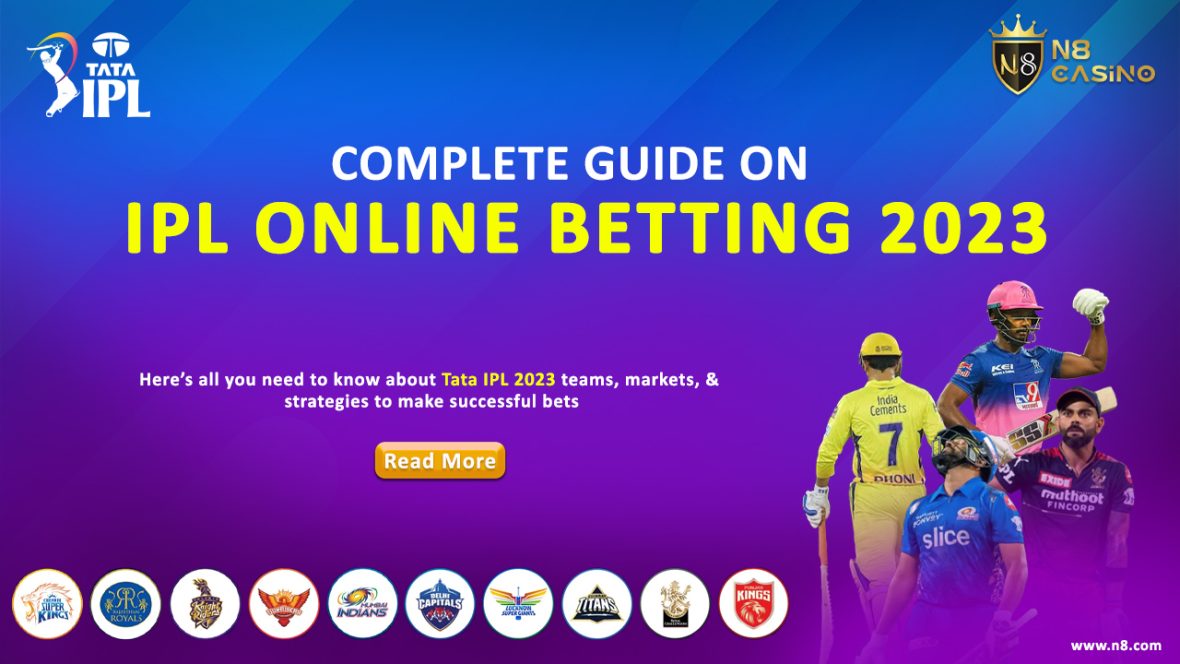 With the 2023 IPL season just around the corner, now is the perfect time to brush up on your IPL online betting knowledge. As always N8 is here to guide and teach you on your IPL betting journey. Here's all you need to know about Tata IPL 2023 teams, markets, and strategies you can use to make successful bets.
Introduction to IPL 2023
The Indian Premier League, or IPL, as you know, is an annual Twenty20 cricket league in India. It started in 2008 and is now one of the most watched sports events in the world, with some of the best players in the country taking part. The 2023 season will start in March and end in May, so there will be a lot of chances to bet on your favourite teams.
Who are you supporting this year? Do you think that the Gujarat Titans will triumph again? Or will Chennai Super Kings' Daddy Army make a comeback? Could this be the year that Mumbai Indians notch up another victory? Anything can happen and that's what makes online IPL betting so fascinating!
The Indian Premier League 2023 is a must-watch for cricket lovers and gamers alike because of its status as a top-tier cricket competition. For those who are interested in online betting, the upcoming 2023 season of the Indian Premier League (IPL) is a perfect opportunity to make the most of a thrilling event. Here, you'll find a comprehensive guide to online betting on the IPL 2023, along with the current odds, expert recommendations, and winning tactics.
Tata IPL 2023 Format
There will be ten teams competing in the IPL 2023. Since the IPL 2012 format served as a model, this event will follow a similar structure. There will be a total of ten teams, split into two groups of five.
And there will be 14 league matches overall, with each team playing at home and away twice. Group A teams would therefore play two games against Group A opponents and one game against Group B opponents. The additional Group B match will be played against a team chosen at random.
IPL 2023 information at a glance
| | |
| --- | --- |
| IPL 2023 Edition | 16th edition |
| Sponsorship | Tata |
| IPL 2023 Dates | 1 April 2023 – 28 May 2023 |
| Administrator | Board of Control for Cricket in India (BCCI) |
| Format | T20 |
| IPL 2023 Auction Date | The first week of February 2023 |
| Total no of matches | 74 |
| IPL 2023 format | Group stage and playoffs |
| IPL 2023 hosts | India |
| IPL 2023 Official Website | www.iplt20.com |
| BCCl Official Website | www.bcci.tv |
| Current champions | Gujarat Titans |
| Most successful IPL team | Mumbai Indians |

2023 IPL Teams
| IPL 2023 Team | Captain |
| --- | --- |
| Chennai Super Kings (CSK) | M S Dhoni |
| Delhi Capitals (DC) | To be announced |
| Gujarat Titans (GT) | Hardik Pandya |
| Kolkata Knight Riders (KKR) | Shreyas Iyer |
| Lucknow Super Giants (LSG) | K L Rahul |
| Mumbai Indians (MI) | Rohit Sharma |
| Punjab Kings (PBKS) | Shikhar Dhawan |
| Rajasthan Royals (RR) | Sanju Samson |
| Royal Challengers Bangalore (RCB) | Faf du Plessis |
| Sunrisers Hyderabad (SRH) | To be announced |
Without any familiarity with the teams, an IPL cricket betting prediction is extremely difficult to make. So here is a closer look at the ten teams who will compete in the 2023 season.
Mumbai Indians
The Mumbai Indians are one of the top rated T20 teams in India right now. Since their 2008 inception, this squad has won five consecutive Indian Premier League titles. During the previous season, they had triumphed over the Delhi Capitals by a score of five wickets. They currently have Rohit Sharma as their captain. Furthermore, Mahela Jayawardene was selected as their head coach. The Mumbai Indians could as well have been called the Mumbai Razors. Unless Sachin Tendulkar was involved, the franchise run by Rohit Sharma would have a very different moniker. Because the team's mascot is the well-known Sudarshan Chakra (also known as the Razor), the proposed moniker was appropriate.
Delhi Capitals
Aside from the New York squad, this is the only other major league team in Delhi. After missing the playoffs for seven straight years, they finally qualified for them in 2019. Virender Sehwag leads the squad in runs scored, and Amit Mishra leads the team in wickets taken. Ricky Ponting, winner of three One-Day International World Cups, is the team's head coach. In terms of wins as captain, he holds the record. He has been the captain of the Australian national team for 324 games, 220 of which have resulted in victories (a winning percentage of about 68). James Hopes, a former Australian right-arm medium-fast bowler, now serves as Delhi Capitals' bowling coach.
Royal Challengers Bangalore
The club was founded in 2008 and given its name in honour of a local Bangalorean brand of alcoholic beverages. Even though they have finished in third place in the Indian Premier League three times, this squad has yet to win a championship. And yet, the RCB squad is confident that their current misfortune is temporary. A nugget of information that may or may not shock diehard IPL followers is that the Royal Challengers Bangalore have scored more hundreds than any other IPL squad in the tournament's history. The Bangalore-based RCB team leads the list for most IPL hundreds scored by players with 13. Chris Gayle's five IPL tons for RCB are a significant contribution.
Chennai Super Kings
These players and coaches have earned the title of Indian Premier League Champions for the upcoming season. The franchise, which debuted in 2008, has seen its valuation rise to almost $104 million and is still expanding. In the Indian Premier League, they are clearly second best, behind only the Mumbai Indians. Except for the IPL 2020 Season, this team has made the playoffs every year. Only two players in the history of the Chennai Super Kings have ever held the position of team captain. MS Dhoni has led CSK in 160 IPL matches, and the team has won 99 of those games. This is the most victories by any team in the IPL under the leadership of a single captain. If CSK wins their next game, Dhoni will have led them to 100 victories since 2008.
Sunrisers Hyderabad
Kalanithi Maran owns and operates this Hyderabad-based cricket squad. They are yet to announce their captain for this season. In 2013, Sunrisers Hyderabad qualified for the IPL for the first time. Seven of their last 14 matches were victories the previous season. With a 53.62 percent win rate, SRH is third best in the league. With 124 total matches played, they have a win percentage of 65 and a loss percentage of 56. One of just five teams in the IPL with a winning record.
Kolkata Knight Riders
They represent Kolkata in the Indian Premier League. Shah Rukh Khan, a well-known Bollywood star, is the establishment's owner. Because its owners are well-known, the team quickly became a sensation. This group has won the Indian Premier League twice (in 2012 and 2014). The Kolkata Knight Riders have won the IPL two times, making them the team with the longest winning streak. They've won 10 in a row, 9 in 2014 and 1 in 2015. The 2014 season was a disappointing one for the Kolkata Knight Riders, who won just two of their seven games. Defeat would have meant immediate elimination from playoff contention. However, from that point on, they went on an unprecedented winning streak that culminated in their second IPL championship. They started the year by winning 9 straight games. The 2015 season was another triumph in a row.
Punjab Kings
The state of Punjab is represented by the Punjab Kings (previously Kings XI Punjab). During the previous campaign, they compiled a record of 6 wins and 8 losses, enough for sixth place. That meant that they missed out on the postseason. With a 45.78 win % (second-worst among clubs that have played 100 or more matches), Punjab Kings are in last place. They have won only 85 of 176 possible matches, while losing 101. KL Rahul scored 2548 runs at a franchise-best 56.62 runs per innings over the course of 55 innings. He has a strike rate of 139.76 and has scored two hundreds and twenty-three fifties. KL Rahul will captain the new Lucknow Super Giants IPL club in 2022, while Mayank Aggarwal will steer the Punjab Kings as their captain.
Rajasthan Royals
This group can be found in Jaipur. They won the Premier League once, in 2008, and finished second this season, in 2022. The most promising wicket keeper-batsman of India, Sanju Samson, is their current captain.The team's tremendous potential and talent for scandals and participation in many businesses, however, are well-known. There is always a potential of an upset in sports, so don't count this squad out of the championship race just yet. There are now five teams, including Rajasthan Royals, that have a winning record. The gap between victories and defeats, though, has shrunk considerably. They have an 84-86 win-loss record in 175 total matches played, with two matches ending in a No Result. They have participated in three Super Overs, winning two and losing one. Their win percentage is 49.42 percent.
Gujarat Titans
The city of Ahmedabad now has an Indian Premier League team, the Gujarat Titans, who won the league's inaugural season. Since its inception in 2021, the club's home field has been the Narendra Modi Stadium in Motera. Hardik Pandya is the team's captain, and Ashish Nehra is its coach.
Lucknow Super Giants
Another brand-new addition to the rosters of Indian League clubs in the past year is this one. The city of Lucknow is home to the cricket squad. The Lucknow Super Giants were established in 2021. The BRSABV Ekana Cricket Stadium in Lucknow serves as home field for this squad. KL Rahul has been named captain, and Andy Flower will lead the team as coach.

Quick review of current teams for 2023 season
As we look ahead to the IPL 2023, there are a number of teams that could go far in the tournament. The Chennai Super Kings have won this tournament for the last few years in a row, and many bettors are likely to keep picking them to win. Other teams that often try to win are the Mumbai Indians, Royal Challengers Bangalore, Kolkata Knight Riders, Delhi Capitals, and Sunrisers Hyderabad. When betting on IPL 2023 markets, keeping an eye on these teams and their rosters can give you an edge.
IPL betting odds 2023
First, let's look at how likely it is that IPL 2023 will happen. As of right now, the Chennai Super Kings, the Mumbai Indians, and the Royal Challengers Bangalore are the teams with the best odds to win the tournament. The odds for these three teams range from 3/1 to 5/1. Other teams like Kolkata Knight Riders, Sunrisers Hyderabad, and Delhi Capitals are also expected to do well and are priced at 8/1 to 12/1.
IPL 2023 betting markets
When it comes to betting on the IPL, there are different markets to choose from. Bets on win-lose, totals, spreads, and even money lines are some of the most popular types of bets. Each type of market has its own advantages and disadvantages, so it's important to know which ones are best for the way you bet. For example, money line bets let you bet on the straight winner of a game, while a spread can make the odds more even. Also, knowing the different teams in the league could help you win bets.
You can choose from many different markets, such as match betting, tournament winner, top batsman, and top bowler. Match betting is the most basic and straightforward type of betting, where you bet on the outcome of a single match. On the other hand, betting on the team that will win the whole tournament is called "tournament winner betting."
You can bet on the player you think will score the most runs or take the most wickets with top batsman and top bowler betting. If you know a lot about how the players are doing and how good they are, these markets can be very valuable.
Past IPL winners
| IPL Winner | Year |
| --- | --- |
| Gujarat Titans | 2022 |
| Chennai Super Kings | 2021 |
| Mumbai Indians | 2020 |
| Mumbai Indians | 2019 |
| Chennai Super Kings | 2018 |
| Mumbai Indians | 2017 |
| Sunrisers Hyderabad | 2016 |
| Mumbai Indians | 2015 |
| Kolkata Knight Riders | 2014 |
| Mumbai Indians | 2013 |
| Kolkata Knight Riders | 2012 |
| Chennai Super Kings | 2011 |
| Chennai Super Kings | 2010 |
| Deccan Chargers | 2009 |
| Rajasthan Royals | 2008 |
Betting strategies for IPL 2023
If you want to bet on IPL games, it's important to know what strategies you should use. One important strategy is to use different betting markets to look for good odds. You can also look for value when you make accumulator bets, which let you bet on several games at once to increase the amount you could win. Focusing on one team or one type of bet can also give you an advantage over the bookmakers. Using these betting tips will help you become a good online bettor for the IPL 2023.
IPL online betting tips 2023
Keep up-to-date with the latest news and developments
IPL is a fast-paced tournament, and anything can happen from one moment to the next. Make sure you are informed about the latest team news, injury updates, and form of players, as this can greatly impact the outcome of a match.
Do your research
Before placing a bet, make sure you have done your research on the teams and players involved. Take a look at their recent form, head-to-head records, and players to watch, as this will give you a better understanding of what to expect from each team.
Focus on value
When it comes to betting, it is important to look for value. This means that you should be placing bets on teams or players that offer better odds than their expected outcome.
Manage your bankroll
It is important to have a clear idea of how much you are willing to spend on betting and to stick to that budget. Avoid making impulsive bets and always try to stick to a betting strategy that has proven to be successful for you.
Stay disciplined
IPL can be an emotional rollercoaster, but it is important to remain disciplined and stick to your betting strategy, even when things are not going your way.
Quick review of popular online betting platforms for IPL 2023
Before you can start betting on IPL 2023 games, you need to choose a good betting platform. Different platforms may have different features and ways to pay, so think carefully about your options before deciding on one. One of the most popular platforms for IPL online betting is of course N8.
N8 offers good odds and welcome bonuses and other deals that might help you win more. They also offer round-the-clock customer support in local languages plus popular Indian payment options. There is also an N8 app to make IPL betting even more convenient. Keep your eyes open for special IPL related promos that will make an appearance soon.
Conclusion
In conclusion, IPL 2023 is set to be another exciting edition of the tournament and a great opportunity for those interested in online betting. By keeping up-to-date with the latest news, doing your research, focusing on value, managing your bankroll, and staying disciplined, you can increase your chances of winning and make the most of this exciting event.