Caribbean Premier League 2022: CPL Betting Odds & More!
August 31, 2022
879 Views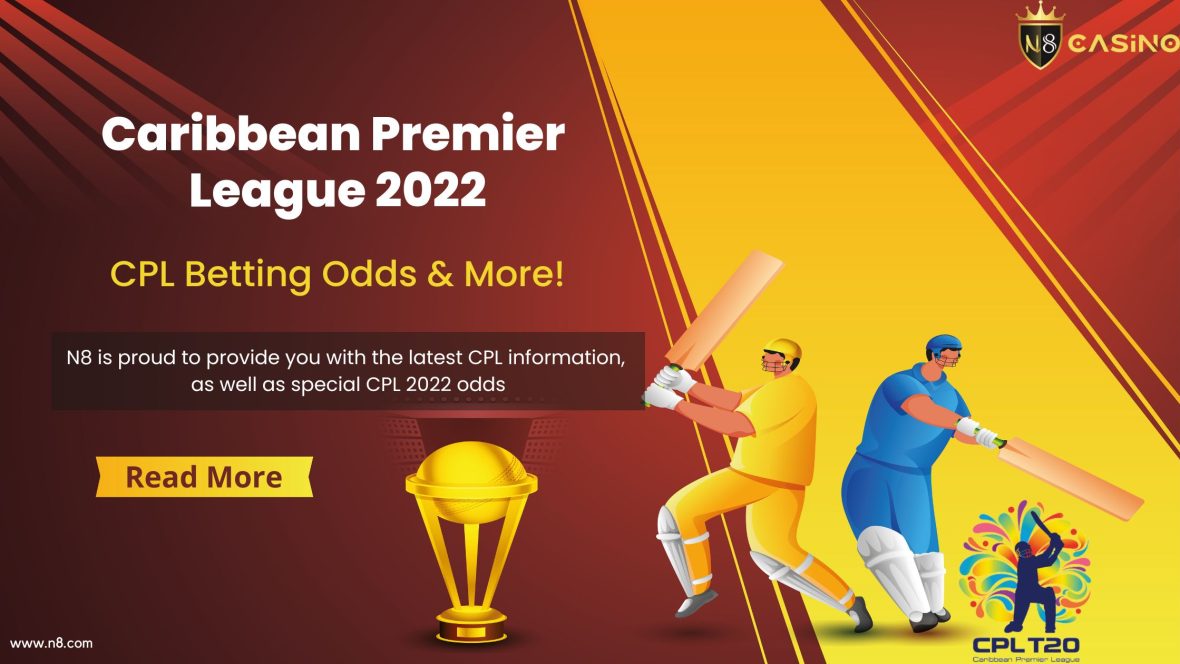 The Caribbean Premier League's 10th season will begin on September 1st, 2022, with a matchup between the reigning champion St. Kitts & Nevis Patriots and Jamaica Tallawahs. CPL? What's that, you wonder? Well, it is only the premier franchise league in the West Indies. The Caribbean Premier League (CPL) has been attracting high-profile and top-class cricketers from throughout the world ever since its inception in 2013. Before this year's season starts, N8 is proud to provide you with the latest Caribbean Premier League information, as well as special CPL betting odds 2022. So without much further ado, let's dive straight in!
CPL Betting Odds
The Caribbean Premier League is no ordinary tournament. It is not just the region's premier Twenty20 cricket tournament, it's probably the most carnival-like atmosphere we've ever seen anywhere in the world! This year's competition will be lengthier than normal, concluding on October 1st at Providence Stadium in Guyana. The longer it is, the more fun CPL betting fans will have!
That's why we at N8 games have compiled a one-stop shop for all things CPL 2022 related, including CPL betting odds, team news, fixtures, and results. In fact, when you visit our online CPL betting site, you'll discover a slew of incentives and deals designed to give you more value every time you wager.
The lowdown on CPL 2022
The Caribbean Premier Competition (CPL) is a Twenty20 cricket league in which West Indian clubs compete. The CPL 2022 will be the league's tenth edition. There will be six teams, four of which will be hosts, including St Kitts and Nevis, St Lucia, Trinidad and Tobago, and Guyana, who will host the playoffs. Jamaica and Barbados will be the other two participating teams.
The competition will begin with a group stage, in which each side will face two opponents. After completing their 10 matches, the top four will progress to the knockout stage, in which they will compete in the semi-finals and finals.
The St Kitts and Nevis Patriots (STKNP) are the defending champions and the favourites to win it again. The event will begin on August 30 and conclude exactly one month later on September 30.
We at N8 strive to provide the greatest CPL betting coverage on the market. We will give CPL 2022 odds as soon as feasible, including outright odds for the tournament winner. Once the league begins, we will periodically update our offers and provide you with the option to bet live on each CPL T20 battle.
Caribbean Premier League Teams
Before the season begins, let's take a close look at the CPL teams. There are six teams in total. They are:
Barbados Tridents
Guyana Amazon Warriors
Jamaica Tallawahs
St Kitts & Nevis Patriots
St Lucia Zouks
Trinbago Knight Riders
The Trinbago Knight Riders have been the most successful team so far with three title wins under their belt. That's probably why they and St Kitts & Nevis Patriots, CPL 2021 champs, are the leading favourites to win CPL 2022. But more about the teams first.
St Kitts & Nevis Patriots
The Patriots will attempt to become only the second club in CPL history to defend their title. It's a tall order, especially for a team that placed sixth the previous year. Chris Gayle's absence is not a disadvantage. There are openings at the top of the list. If No. 3 works for Dewald Brevis and Mumbai, it should work for the Patriots. Keep an eye on Dwaine Pretorius, who might also be promoted. Surprisingly, they were the most costly with the ball last period.
Trinbago Knight Riders
It may be true that the Knight Riders are a traditional bat-dominated club that dominates the group stage before their bowling limitations catch up with them? However, based on last year's performance, going bat heavy is the wise decision. With a lack of pace options, they are far from the most balanced team in the tournament. And with such slim chances, it's pretty easy to sidestep them. They're banking on wickets that are slow, low, and abused. It's not a terrible approach for the play-offs, and qualifying appears to be secured. But pricing is king, and we've gambled this amount at these CPL odds previously with a stronger squad.
Jamaica Tallawahs
Jamaica has underperformed for five years in a row, never finishing higher than fourth. They frequently lose players, and this season they must overcome the loss of Andre Russell. He wasn't quite devoted to the Tallawahs. Shiv Chanderpaul is their new coach, and with him, they may have found a new sense of purpose. They'll need it because they're lacking in talent. With lower-order hitters starting at No. 5, they are at least one batting star short. However, the bowling group is strong, with Mohammad Amir selected. He works well with Miguel Pretoirus on his left arm. Their statistics indicate that qualifying is within their reach.
St Lucia Kings
There has been some turnover at the franchise, which has reached the previous two championships, but lost both times. Rahkeem Cornwall and Andre Fletcher have both gone, signalling a shift at the top of the pecking order. Faf Du Plessis' form is a source of concern. He, and worse, his opponents may be realizing he's not the player he once was. There's a lot riding on slow left-hander Jeavor Royal to put up another great performance. They were quick with the bat, but stingy with the ball. Can that balance pay off again, as it did for the Patriots?
Barbados Royals
The Royals were such a mess in CPL 2021 that they've gone back to the drawing board and started up all over again. Unfortunately, this means they've lost their top two run scorers, Glenn Phillips and Johnson Charles, as well as their leading wicket-taker, Mohammad Amir. We're not certain he's been replaced, and instead, they're banking on the ingenious Nyeem Young doing well once more. There may be a lot of chopping and shifting from No 3 down, and it will be fascinating to see whether they can assign a position to a player and stay with it.
Guyana Amazon Warriors
Every year since the Caribbean Premier League started, the Warriors have made the playoffs. And never won the championship. Some people's patience has run out. It wore on key players as well. Nic Pooran, Mohammad Hafeez, and Shoaib Malik are all missing. However, this makeover appears to be a success. They rely largely on spin, but Odean Smith and Romario Shepherd each took 18 wickets with pace the previous season. And as long as they start Paul Stirling instead of Shai Hope, they should get off to a quick start. The death hitting is fantastic. They have a home advantage in the playoffs and finals, thus they deserve to be supported.
5 Players to watch out for during CPL 2022
Sunil Narine
Andre Russell
Sherfane Rutherford
Sandeep Lamichhane
Imran Tahir
Caribbean Premier League (CPL) betting tips
When you require a cricket expert prediction service, the N8 sports betting site is here to provide you with Caribbean Premier League live news, CPL live cricket scores, and CPL betting odds. In fact, when you combine our CPL betting tips with our collection of market-leading odds and incentives, you'll discover that you've got everything you need to give your wallet a Caribbean glow.
Do you want to place a bet on a CPL Live match while you're out and about? No problem, simply log in to your N8 account as usual and start betting on the go with the N8 sports betting App!
We also provide the greatest odds and lines, not just for the CPL, but for all other international cricket leagues and events.
Frequently asked questions about CPL 2022
Which team has won the most CPL titles?
Trinbago Knight Riders have three titles in the Caribbean Premier League (2017, 2018 and 2020). Unofficially, they have won four titles because the Knight Riders won the 2015 tournament while competing as Trinidad and Tobago Red Steel.
How can I bet on the Caribbean Premier League online?
To begin betting on the Caribbean Premier League online, complete these steps:
Sign up for the N8 sports betting website.
Choose the sport on which you wish to bet.
Open the currently available event.
Simply place your bet.
How can I bet on the Caribbean Premier League from my phone?
Indian gamers may start betting on the Caribbean Premier League online from their mobile phones using the N8 sports betting app or the mobile version. Betting through the app or mobile version is simple.