How to Choose the Right Sportsbook for Betting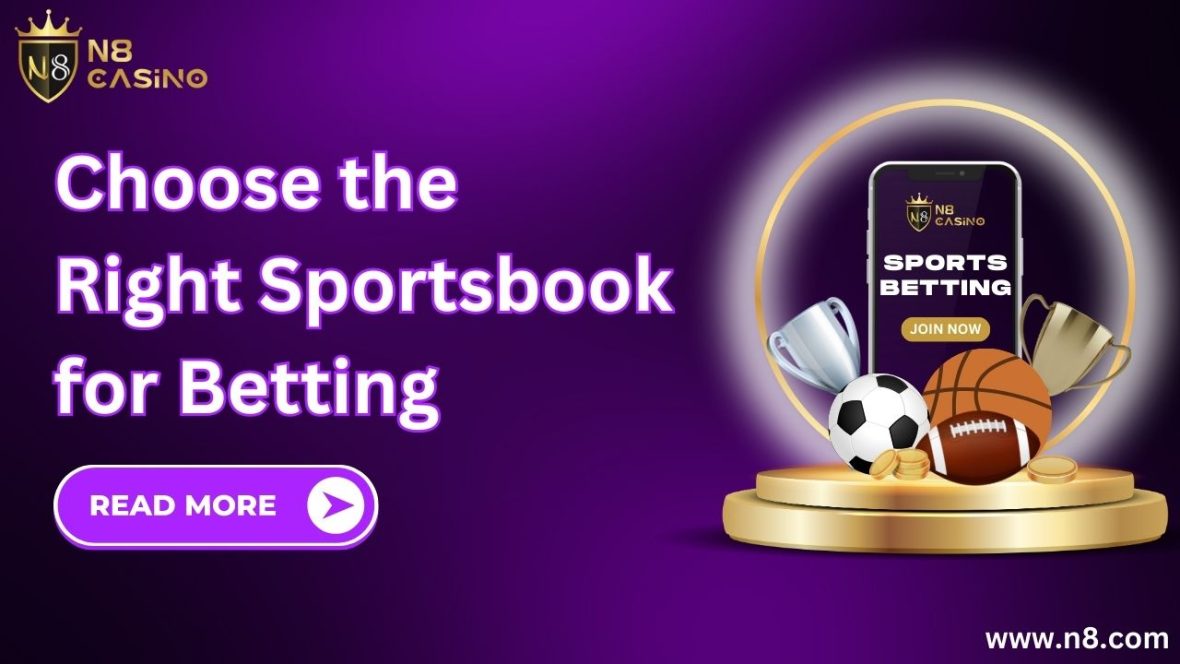 Online sports betting is a fun activity that can give you an exciting experience. If you're new to sports betting, it can be hard to choose the best sportsbook to use. We can help you find a good online bookmaker by giving you some tips.
Pick a good sportsbook right away. Don't register at multiple sites until you find a good one. Before you sign up for a sportsbook, it's important to do some research. Here's what to keep in mind when deciding a sportsbook for betting.
How to find a safe and trustworthy website
To make sure an online sportsbook is legit, it needs to have a gambling licence. This means it's allowed to operate legally. Choose a place that is trustworthy to make sure everything is done legally. Good betting licences include:
Malta Gaming Authority
The United Kingdom Gambling Commission is a group that regulates gambling in the UK.
The Alderney Gambling Control Commission is a group that regulates gambling in Alderney.
Sweden Spelinspektionen is a regulatory body in Sweden that oversees gambling activities.
Gibraltar Regulatory Authority is an organisation that regulates things in Gibraltar.
Make sure the sportsbook you want to join has good security measures. Your data will be safe and not given to others. When you put money in or take money out, it will be sent in a secret code, so nobody can see it. Make sure you stay safe and secure when using an online sportsbook.
Find a sportsbook where you can bet on many sports and has good odds
Sports betting sites must have a wide range of sporting events available. Don't join a betting site that only offers a few sports betting options. Always choose those betting sites, from where you can choose many events to bet on, and there will be many types of bets available for each event. By choosing these kinds of sites, you will get many betting options.
You should choose sports and markets that have good odds to make money. The chances of winning should be good compared to other places where you can bet on sports. This means you're getting the best from your bets. When you look for an online bookmaker site to join, make sure there are lots of things for you to do and that the odds are good for you.
Also Read: How to Bet on Sports

Pick a sports betting website that accepts different payment options
To start betting at an online sportsbook, you need to put money into your account. This is called depositing. You can use different payment methods to do this. People have different ways of putting money into their betting accounts. So, it's important to find a bookmaker that accepts many types of payment methods.
Don't choose only one option. Go to the cashier page and choose your preferred payment method. Here are the methods that are supported:
You can use different types of credit and debit cards like Visa, Mastercard, Diners Club, American Express, and others.
Cryptocurrencies are digital money like Bitcoin, Ethereum, Litecoin, Dash, Montero, Bitcoin Cash, and more.
There are some companies that have e-wallets. These companies include Skrill, Neteller, PayPal, ecoPayz, and others.
You can use Trustly to transfer money between banks. You can also use local options like iDeal and POLi.
Companies like Neosurf and Paysafecard offer prepaid cards.
Make sure the website has a good support team.
Sometimes, we may not have a completely good experience when using an online sports betting website. We want to do things like signing up, depositing money, getting promotions, and placing bets without any issues. If you have any problems, don't worry because there is a great support team available to help you. Customer support advisors should be nice and committed to helping you as much as possible.
Customer support agents should be available through many ways. You should provide live chat, email, and phone support. You can contact some sportsbooks on social media like Facebook, Twitter, and Instagram.
Look for an online sportsbook where you can bet on sports. The best online sportsbooks have good deals and keep offering them regularly.
We want to make sure that the website you use for sports betting has interesting things to keep us entertained while we place your bets. Sports betting promotions should not only be for newbies who just joined and deposited money for the first time, but also for people who gamble regularly. When you're looking for a sportsbook, make sure to find one with good deals. This is really important.
Find a sports website that gives new people free stuff like bets, bonus money, and cashback. Check for promotions given to regular bettors at the sportsbook while doing so. When you keep betting on a site, you can get cashback rewards and free bets, just like the welcome offer.
Remember to check the terms and conditions when looking for sportsbooks with special offers. Some websites may have really hard rules for using bonus money, like needing to bet a lot before you can use it. Don't fall for big bonus offers that seem too good to be true. They often have strict rules you need to follow. Get the most out of a deal.
How can I tell if a website has a licence?
To determine if a site is licensed, you can usually find this information on the site itself. Look for a licence number or seal provided by a reputable regulatory authority, such as the UK Gambling Commission or Malta Gaming Authority. Additionally, you can verify the licence by checking the regulatory authority's official website.
How much do I need to put down before I can play online?
The amount you need to deposit to start betting online varies depending on the platform and its specific requirements. It can range from a few dollars to several hundred or more. It's advisable to review the terms and conditions of the online betting site or contact their customer support for accurate information.
Can I cancel my bet at an online sportsbook?
The ability to cancel a bet using an online sportsbook depends on the platform's rules and policies. Some sportsbooks may offer a limited cancellation period shortly after placing the bet, while others may not allow cancellations at all. It's important to familiarise yourself with the specific rules of the sportsbook you are using.
Is online sports betting safe?
Betting on sports online can be safe if you choose a reputable and licensed sportsbook. Look for well-established platforms with positive user reviews and proper security measures in place, such as encryption technology to protect your personal and financial information. It's also essential to gamble responsibly and set limits for yourself.
Also Read: Know Before You Start Sports Betting

Do I have to pay to get my money out of a casino online?
Withdrawal policies and fees vary among different online sportsbooks. While some platforms may charge a fee for withdrawals, others may offer free withdrawals within certain limits or under specific conditions. It's important to review the terms and conditions of the sportsbook regarding withdrawals to understand any potential fees or requirements.
Why N8 is the right sportsbook for betting
When looking for the right sportsbook, it's important to consider various factors. The best online sportsbook should offer a wide range of sports betting options, including popular sports like football, basketball, and tennis. It should provide a user-friendly online platform or app for convenient and seamless online sports betting. Look for sports betting sites that have a solid reputation, positive user reviews, and a valid licence to ensure a safe and secure betting experience.
The best online sportsbooks often offer enticing sports betting bonuses and promotions to attract new customers and reward loyal ones. It's also crucial to consider sports betting odds and compare them across different platforms to maximise potential winnings. While N8 games may be specific to a particular platform or app, it's advisable to do thorough research and read reviews before downloading any sports betting app or signing up with a particular site.