Asia Cup Matches: Best Captains in History
August 21, 2023
190 Views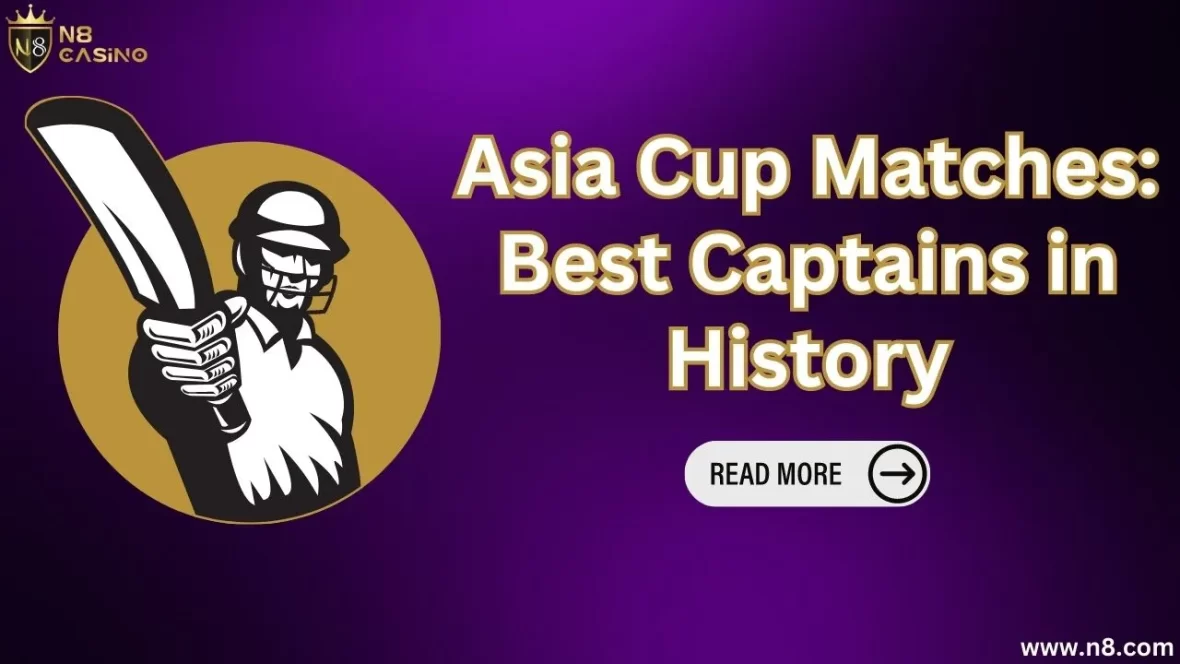 Asia Cup has a long history with it. There have been multiple highs and lows throughout this journey. The early contenders for the Asia Cup have only some nations. They were Sri Lanka, India, and Pakistan. But as cricket spread across like wildfire, it evolved. The event started to include additional teams. Bangladesh began to make its impact on the tournament. This resulted in increased competition and more unpredictable results.
In addition to the classic ODI format, the Asia Cup Cricket has embraced the T20 format. This is to accommodate evolving cricket fan preferences. The T20 Asia Cup made its debut in 2016. This offers a shorter and more dynamic version of the tournament. This shift aimed to connect with the global trend of T20 cricket and attract a larger viewership. Over the years, the tournament has seen many best captains.
The Asia Cup has had many moments and great matches ever since the beginning. Not to forget the nail-biting finishes, individual brilliance, and team performances that have contributed to the legacy. In this article, we will have a look at the best captain in Asia Cup. We will also discuss the best 5 Asia Cup captains in detail.
Asia Cup Captain: Top 10 Captains
There are only two Asia Cup Captains that have achieved this feat. They are MS Dhoni and Mohammed Azharuddin. Both have won two Asia Cup tournaments as captains.
MS Dhoni captained the champion Indian team in both the 2010 and 2016 editions. He has the most matches played and victories as captain in Asia Cup tournaments. Here is the current list of tournament winners.
| | | | | |
| --- | --- | --- | --- | --- |
| Captains | Matches | Wins | Loss | Win Percentage |
| MS Dhoni | 19 | 14 | 4 | 76.32% |
| Ranatunga Arjuna | 13 | 9 | 4 | 69.23% |
| Rohit Sharma | 9 | 7 | 2 | 77.78% |
| Misbah-ul-Haq | 10 | 7 | 3 | 70.00% |
| Moin Khan | 6 | 6 | 0 | 100.00% |
| Mahela Jayawardene | 10 | 6 | 4 | 60.00% |
| Mashrafe Mortaza | 11 | 6 | 5 | 54.54% |
| Mohammed Azharuddin | 7 | 5 | 2 | 71.42% |
| Angelo Mathews | 9 | 5 | 4 | 55.55% |
| Sourav Ganguly | 9 | 4 | 5 | 44.44% |
Discussing the Best Asia Cup Captain
In addition to MS Dhoni and Mohammed Azharuddin, other captains have left a mark. Moin Khan of Pakistan and Rohit Sharma of India, boast a perfect record of 100% wins as captains in the Asia Cup.
They have led their teams for five or more games. Meanwhile, Sourav Ganguly of India, Angelo Mathews and others have done the same. Let us have a look at the Asia Cup captains in detail.
1. MS Dhoni – 76.32%
MS Dhoni is the most successful Asia Cup captain in history. He appeared in 19 games while captaining the team. He won 14, lost 4, and tied one game. With this excellent record, he has the highest win % of any Asia Cup captain. This is why he ranks first on our list of the Top Indian Captains.
His capacity to make bold decisions shaped him into the incredible leader that he is. His drive to see his team reach their maximum potential won him the title of best cricket captain.
2. Arjuna Ranatunga
Former Sri Lankan cricket captain Arjuna Ranatunga is the next-best Asia Cup captain in history. He played 13 matches as captain where he won nine. This gives him a win percentage of 69.23. This is a fabulous score that shows his amazing leadership abilities.
Ranatunga's most famous cricket match was leading Sri Lanka to its maiden Asia Cup title in 1986.
3. Rohit Sharma
The next best captain as per recommendation is none other than Rohit Sharma himself. His mindful tactics, intelligence and strategy are one of a kind. He has a dazzling winning percentage of 77.78.
Sharma's leadership abilities were fully displayed during India's win in the 2018 Asia Cup. His tactical decisions and strong man-management abilities were crucial to India's victorious campaign.
4. Misbah-ul-Haq
The next Asia Cup captain on our list is Misbah-ul-Haq. He rightly deserves his 4th rank among our top captains. He played 10 matches as captain where he won 7. He lost 3 with no ties.
Misbah's most famous accomplishment as captain was leading Pakistan to their first Asia Cup triumph in 2012. He was also instrumental in the team's excellent effort in the 2014 edition. This is when they reached the final but were defeated by Sri Lanka.
5. Moin Khan
Moin Khan is the former captain of Pakistan's cricket team. He ranks 5th on our list as the Asia Cup captain. He played 6 matches as a super captain and won all of them. He has no losses or draws. This gives him a winning percentage of 100 percent which is amazing.
Khan's most famous feat as captain was leading Pakistan to victory in the Asia Cup in 2000. His leadership and great man-management abilities were crucial to Pakistan's success during his captaincy.
Also Read: Asia Cup 2023: The Match Schedule, Teams, Venue and Betting Tips

N8 Cricket: Bet on Asia Cup This Cricket Season
With plenty of cricket betting sites today, it is difficult to choose one. But we have made your work simpler. Presenting N8, a well-regarded site for newbies eager to begin their betting careers.
Our platform allows beginners to easily explore the platform. Our website, N8 Cricket, is developed with simplicity in mind. This allows individuals with limited betting expertise to navigate easily.
We go above and beyond to ensure our platform is easier for beginners. We offer guidelines, tutorials, and articles that teach different aspects of sports betting. This knowledge enables novices to make better-educated decisions and increases their trust in the betting process.
The platform provides a wide selection of betting possibilities. This includes basic bets and larger bets suitable for all. that are suitable for novices. N8 normally has low minimum bet requirements. This is perfect for beginners who wish to start with smaller bets.
N8 Sports prioritises customer service. This is why we have 24×7 customer service support. A responsive customer support team can help you navigate the platform and understand bet types. At the same time, it helps to solve any issues that arise.
For newcomers who prefer to bet on the go, we offer the N8 app. This allows you to bet anytime, anywhere. This means you can bet using your smartphone making it handier. So, do not wait any further. Place your bet on Asia Cup soon ad win exciting N8 promotions.
FAQs
1. What is the win percentage of Asia Cup's most successful captain?
MS Dhoni has the best win percentage of any skipper in Asia Cup history, at 76.32 percent.
2. Who holds the Asia Cup record for the most matches played?
With 28 appearances, Sri Lanka's Mahela Jayawardene has played the most matches in the Asia Cup.
3. How many Asia Cups did Dhoni captain?
MS Dhoni led his team to two Asia Cup victories, the first in 2010 and the second in 2016.