Top 10 Football Stars You'll Miss at the FIFA World Cup 2022
October 28, 2022
654 Views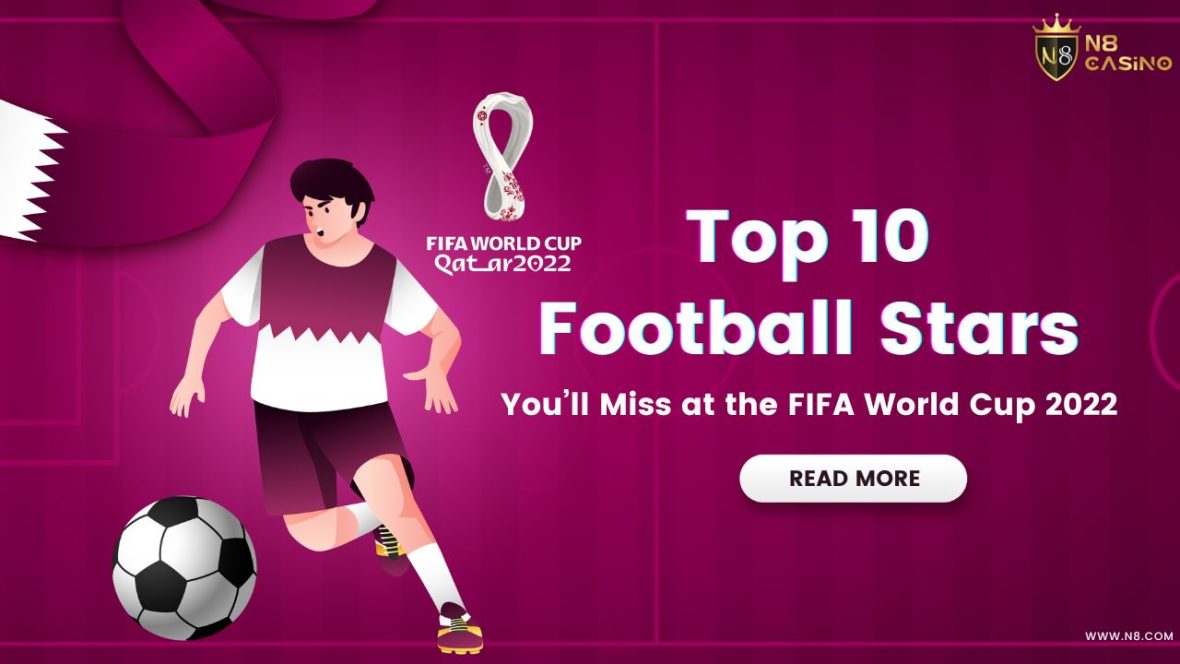 The upcoming FIFA World Cup 2022 in Qatar is set to be a star-studded spectacle full of entertainment and drama. But certain crowd favourite football stars' names will be missing from the tournament. We'll explore who they'll be missing, FIFA 2022.
What to expect at FIFA 2022
The most prestigious and most awaited football competition will be placed in Qatar from November 21 until December 18, 2022. There is no question that predictions and bets are already in progress as fans get ready for the event, whether they plan to watch it live or from the comfort of their own homes.
Those who appreciate the thrill of mixing FIFA festivities with online sports betting will be keeping a close eye on the action in order to make the best educated and potentially profitable wagers. There are numerous betting choices for the FIFA World Cup 2022.
Why are so many top footballers missing the FIFA World Cup 2022?
Many teams found the qualification procedure for the 2022 FIFA World Cup to be quite difficult. For the quadrennial competition, a number of football legends have already reserved their slots. Brazil maintained their streak of participating in every World Cup. Meanwhile, Canada qualified for the Olympics for the first time since 1986. However, a few powerhouses were unable to secure a spot in Qatar 2022. This will result in some prominent stars missing football's biggest event.
Italy, for instance, have totally missed the FIFA 2022 bus. They will not compete in the 2022 World Cup in Qatar, since they were defeated 1-0 by North Macedonia in their World Cup play-off semi-final meeting. The Euro 2020 winners have now failed to qualify for a second consecutive World Cup, after not missing one since 1958.
Which footballers will be denied a chance in the FIFA World Cup 2022?
Riyad Mahrez – Algeria
Zlatan Ibrahimovic – Sweden
Mohamed Salah – Egypt
Toni Kroos – Germany
Gianluigi Donnarumma – Italy
Erling Haaland – Norway
Sergio Agüero – Argentina
Luis Diaz – Colombia
David Alaba – Austria
Giorgio Chiellini – Italy
Riyad Mahrez – Algeria
Algeria lost out on qualification in the last minutes, leaving the winger heartbroken. They conceded in injury time to Cameroon, who had advanced ahead of them. Riyad Mahrez must now wait for another World Cup participation. But with Mahrez being 31, he may never be able to add to the 72 minutes of World Cup playing time he saw in Brazil in 2014.
Zlatan Ibrahimovic – Sweden
The legendary Swede returned from retirement to assist his nation qualify for the FIFA World Cup in 2022, but he was unable to accomplish so. In the last round of European Qualifiers, Sweden was defeated by Poland. The striker did not take the field at the start of the game. He came on as a substitute with Sweden down 2-0. The 40-year-old is regarded as one of the greatest players of his time. However, his wait for World Cup participation continues. The last time Ibrahimovic played in the World Cup was in 2006.
Mohamed Salah – Egypt
Salah has established himself as one of the top players in the world since joining Liverpool in 2017. The winger is also Egypt's talisman, having notably netted a penalty to take Egypt to the 2018 World Cup, but he was unable to replicate the feat in 2022. After losing the 2017 Africa Cup of Nations final to Senegal, Egypt faced the same opponents for a place in the 2022 World Cup, and the game went to penalties. Sadly, Salah missed his penalty after being bombarded with lasers, but Liverpool teammate Sadio Mane converted from the spot to send Senegal to Qatar.
Toni Kroos – Germany
Toni Kroos is another well-known player who will not compete in the FIFA World Cup 2022. Kroos is a German footballer who plays as a midfielder for Real Madrid in La Liga. Kroos, regarded as one of the best midfielders in the world, announced his retirement from international football after Euro 2020 in order to concentrate completely on his final season with Real Madrid. Since then, the well-known midfielder has continued to thrive and succeed in his craft. It's a shame he won't be able to show them off on the FIFA field at the end of the year.
Also Read: Who Will Win the T20 World Cup? Cricket Betting Tips & Predictions
Gianluigi Donnarumma – Italy
The gigantic goalie was crowned Euro 2020 player of the tournament after playing a major part in Italy's surprising victory. Donnarumma, however, was helpless to prevent the Azzurri from shockingly failing to qualify for Qatar, as North Macedonia stunned Roberto Mancini's team in the play-offs. The Paris Saint-Germain goalkeeper is still only 23 years old and should have many more chances to play in a World Cup. Even so, elimination was the last thing he needed right now, given his poor form and continued struggle to establish himself at the Parc des Princes this season.

Erling Haaland – Norway
The striker is regarded as one of the finest young talents in football, but he will have to wait for his turn to shine on the international scene. Norway finished third in Group G, behind the Netherlands and Turkey, having not qualified for a major international competition since Euro 2000. Stale Solbakken's team played the Dutch knowing that a win would at the very least assure them a place in the play-offs, with a draw also sufficing if Turkey lost. Norway, who were missing Borussia Dortmund star Haaland due to injury, were defeated 2-0 and will therefore miss this year's competition.
Sergio Agüero – Argentina
Sergio Agüero is one of the Argentine greats. 'Kun' Agüero, regarded as the best striker of his generation and one of the greatest players in Premier League history, withdrew from football in December 2021 due to a heart issue. The striker had a difficult time making this decision, but it was ultimately out of his control. Agüero was slated to join Argentina's backroom staff for the FIFA World Cup 2022, but he just declared that he has denied the invitation and would only attend the event as a spectator.
Luis Diaz – Colombia
Diaz rose to popularity during the Copa America last summer, scoring four goals in five matches to help Colombia finish third. However, the winger, who recently joined Liverpool for a fee of £37 million, will be unable to build on his excellent displays at the 2022 World Cup. Colombia intended to finish fifth and qualify via the playoffs after Brazil, Argentina, Ecuador, and Uruguay clinched South America's four automatic slots at the 2022 World Cup, but Peru beat them to it.
David Alaba – Austria
Alaba is widely considered as one of the greatest players Austria has ever produced, and he hoped to lead Austria to their first World Cup since 1998. Despite placing fourth in Group F, they advanced to the play-off semi-finals thanks to their exploits in the Nations League and were up against Gareth Bale's Wales. Alaba was correct to be suspicious, as his Real Madrid teammate produced two superb goals in Wales' 2-1 win.
Giorgio Chiellini – Italy
Chiellini, one of the best centre-backs of his generation, captained Italy to the European Championship title last summer. Chiellini previously assisted Italy in winning the World Cup in 2006 in the final match against France. Fans of the 37-year-old striker will be disappointed to learn that he will retire from international football in June 2022. His final match will be against Argentina at Wembley. Chiellini will go down in history as one of Italy's finest footballers. The defeat against North Macedonia is thought to have influenced his decision to quit. However, the star hopes to go out on a high note, publicly waving farewell to his squad in June at the stadium where he experienced some of his career's most memorable moments.
FAQs
Where is the 2022 FIFA World Cup?

FIFA World Cup 2022 will be held in Qatar. It will be the first World Cup to be hosted in the Middle East and just the second in Asia.

How many teams will compete in the 2022 World Cup?

There will be 32 teams competing in the men's World Cup 2022 in Qatar. For the 2026 World Cup, the field will be expanded to 48 teams.

Will Qatar allow alcohol during FIFA World Cup 2022?

Despite rules limiting the sale of alcohol in the majority-Muslim nation, FIFA World Cup organisers have agreed with local officials in Qatar to offer beer in stadiums and fan zones.
FIFA World Cup 2022 betting
N8 Games is one of the top websites in India for online sports betting. We promise the greatest gaming experience and flawless support, as well as the most profitable odds and betting possibilities. We provide a range of payment methods with excellent security requirements for Indian gamers. For the end of the year, our user-friendly sportsbook has a lot in store. What's more, very few Indian sportsbooks can claim to have the amazing daily bonuses and surprise promotions that N8 offers. You can also watch live matches with N8. Download the N8 App and carry FIFA 2022 World Cup action with you wherever you go!