Rohit Sharma Captaincy Record: Test, ODI Matches & T20
August 28, 2023
180 Views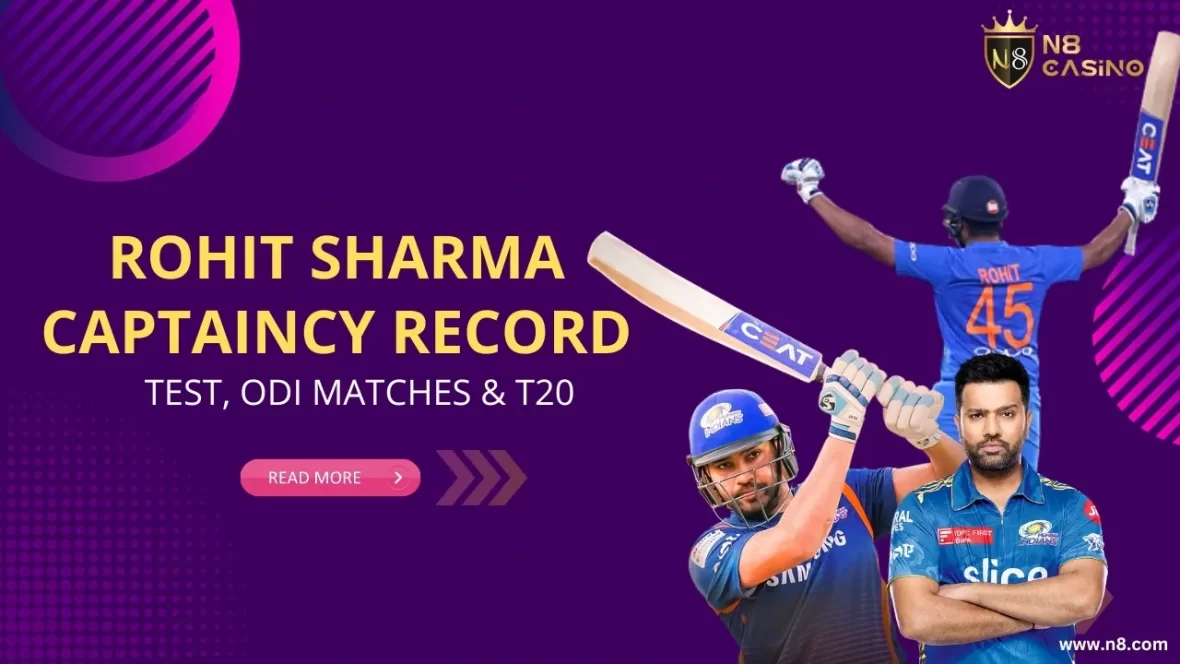 Leadership on the pitch is often as important as individual performance in international cricket. Rohit Sharma is one name that stands out in this scenario. Sharma's journey as a skipper in the formats of Test matches, ODIs, and T20 cricket is a compelling story.
He is renowned for his batting skills and dynamic playing style. This blog digs into Rohit Sharma captaincy record and tenure across all formats. We give light to his strategic leadership approach. At the same time, we will discuss the impact he has had on the performance of his teams.
The progression of Rohit Sharma's leadership offers insights into his capacity to adapt to different cricketing landscapes. This discussion not only highlights Sharma's efforts as a captain. But we also look at the broader consequences of his leadership on modern-day cricket's ever-changing methods.

Rohit Sharma Captaincy in Test: Navigating the Storm
Sharma's appointment as Test captain was a huge moment in the world of cricket and his career. Rohit Sharma is known for his incredible stroke play. We also love his uncanny ability to destroy bowling attacks. He is often known as the best Indian cricket captain who took on a new position. He displayed patience, strategic intelligence, and the ability to play the game over long periods of time.
We look at his leadership debut and study his approach to team building. Furthermore, his management like field placements and bowling rotations are impressive. Under Rohit Sharma's captaincy, Team India has won four tests. Moreover, India has lost one, drawn one, for a winning percentage of 66.66.

ODI World Cup 2023: The Ongoing Symphony of ODIs
Moving to the One-Day International scene, we see Sharma's development as a leader in a format that combines strategic thought with dynamism. Quick choices and the ability to capitalise on opportunities are all required in the game. We examine Sharma's ODI strategies.
This includes his role in developing young talent and the art of remaining calm during high-pressure chases. We showcase his captaincy victories and the events that displayed his performance. Here is a tale that showcases Rohit Sharma is his ODI victories.
| | |
| --- | --- |
| Statistics | Record |
| Total matches | 24 |
| Wins | 19 |
| Loss | 5 |
| Ties | 0 |
| Win Percentage | 79.17% |
Rohit Sharma Captaincy Record in T20 International: The T20 Revolution
T20 cricket is the shortest and most exciting format of the game. However, it brings with it its own set of difficulties and potential. Rohit Sharma captaincy record in T20s demonstrates his knowledge of dynamic plans. He is also aware of the field positioning innovation and tactical decisions.
We look at how he optimises batting lineups and captains' teams to victory in high-octane tournaments. We explore Rohit Sharma Captaincy Record in T20 International and the trail of success he has offered. These are the details of his T20I wins and victories.
| | |
| --- | --- |
| Statistics | Record |
| Total matches | 51 |
| Wins | 39 |
| Loss | 12 |
| Ties | 0 |
| Win Percentage | 76.47% |
The Best Indian Cricket Captain: Rohit Sharma & His Debut
A cricketer's journey begins with a debut that is the start of a promising career. In the case of Rohit Sharma, his debuts were memorable in each. In Test matches, ODIs, and Twenty20 cricket, each was a milestone. Each format showed his talent, drive, and natural ability to make an impression.
Rohit Sharma's Test debut against the West Indies in November 2013 demonstrated his flawless technique. After establishing himself as a limited-overs specialist, he shifted to the five-day format. His Test debut was nothing short of sensational with a controlled century in his very first Test innings.
Sharma's ODI debut had all the hallmarks of a star-studded start in international cricket. His debut was against Ireland in June 2007 where he revealed a player bursting with confidence. Batting at No. 7, Rohit Sharma displayed natural flair and striking prowess, scoring 61 runs with ease. Even though his first innings came lower down the order, it was a credit to his batting prowess. He thus signalled his ability to emerge as a key part of India's limited-overs campaigns.
Rohit Sharma's debut in T20 cricket in September 2007 was distinguished by versatility. In the first ICC World Twenty20 competition in South Africa, he made his debut as an opener. It was a choice that would shape his T20 career. Sharma's daring ability to improvise shots to all four corners of the court made him a star. He demonstrated his abilities by scoring a half-century. This displayed his range of skills and talent.
Rohit Sharma Captaincy Record: The Best of the Lot!
Let us have a look at the captaincy record of Rohit Sharma.
| | | | | | | | |
| --- | --- | --- | --- | --- | --- | --- | --- |
| Format | Match | Won | Lost | Draw | Tie | No Result | Win |
| T20I | 51 | 39 | 12 | 0 | 0 | 0 | 76.47 |
| ODI | 27 | 20 | 7 | 0 | 0 | 0 | 74.07 |
| TEST | 9 | 5 | 2 | 2 | 0 | 0 | 71.42 |
| IPL | 158 | 87 | 67 | 0 | 4 | 0 | 55.06 |
Also Read: Asia Cup Matches: Best Captains in History

Bet on N8: Where Betting Meets Passion
In the ever-changing world of entertainment and sports, a reliable platform has made its way. It is none other than N8. Our platform is designed to provide enthusiasts with a thrilling betting experience. Bet on N8 and witness the amazing world of sports betting. Our platform goes above and beyond standard betting platforms by adding a thorough understanding of what makes sports truly engaging.
It is about embracing the essence of competition, and strategy, and not just placing bets. It does not matter if you are a new user or a professional, N8 Sports has it all to cover your betting needs. We promote a responsible betting experience that appeals to your interests in sports, gaming, and competition.
N8 Games welcomes all of you to come and discover the real world of sports betting. We urge you to try your luck and get lucky today. N8 is not only any other platform but a place where you and us can share our accomplishments. Our interactive forums and live chats help fans find fun in the world of betting and beyond. So, join us today and enjoy our bumper N8 Bonus to kickstart your betting adventure.
 FAQ's
1. How many titles did Rohit win as captain?
Rohit has won 5 titles in the IPL
2. How much did India win under Rohit's captaincy?
Rohit Sharma's winning % as India's captain is as follows:
•100% in tests
•79.16% in ODIs
•76.47% of T20Is
•78.48% overall Rohit Sharma is the only skipper in history with a victory rate of 70% or higher in international cricket.
3. Is Rohit Sharma the Test captain?
Rohit has played 10 Tests since taking up the Test captaincy in 2022
4. How many runs has Rohit Sharma scored as an ODI captain?
In 26 ODIs as captain, Rohit has scored 1163 runs. This includes seven fifties, two hundred, and one double century. In 243 One-Day Internationals, he has scored 9825 runs.