Most Runs in Test Cricket: Indian Players With Highest Scores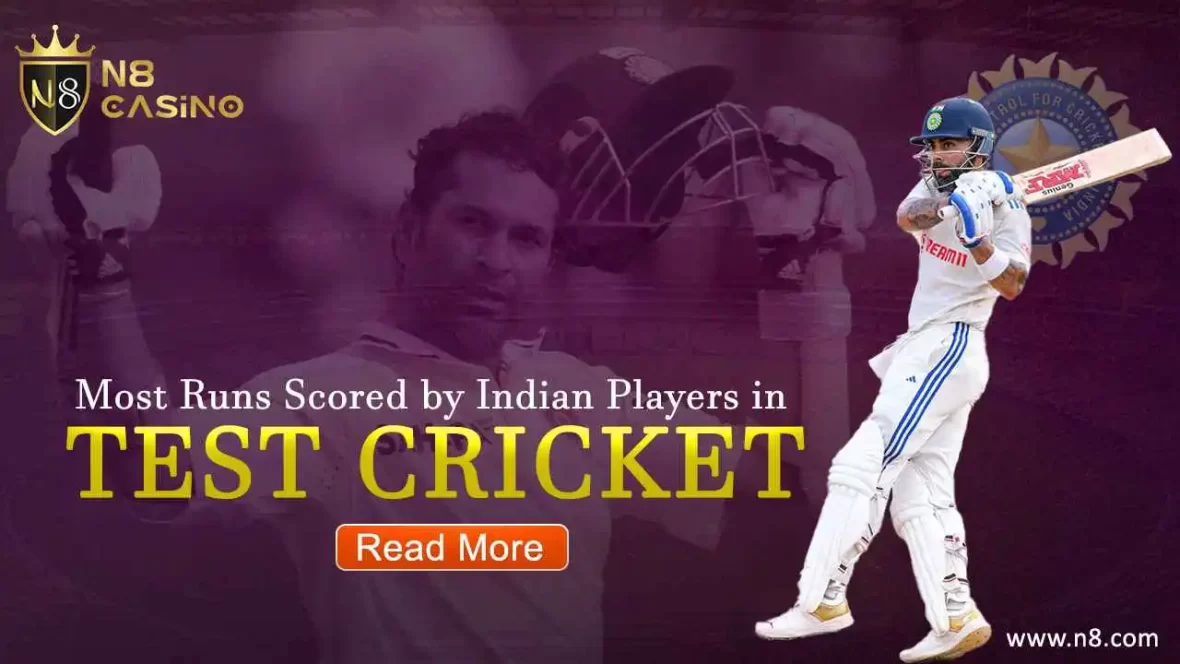 Cricket is a sport that flows through the veins of millions of Indians. The sport has seen countless great moments. Test cricket has a particular place in the hearts of cricket fans. It not only has some powerful matches but also terrific performances. Cricket has blessed us with tremendous talent over the years. It has produced legendary batsmen who have left incredible records.
We shall see the moments that left cricket fans stunned and proud as we reveal the records and innings of Indian players in Test cricket. Furthermore, we will investigate the strategic brilliance and strategies that helped them to flourish in the game's longest format.The ability of these players to adapt to situations, confront the finest bowlers, and withstand the demands of Test cricket speaks volumes about their abilities. This blog will investigate the incredible Test cricket performances of Indian players. We will focus on the most runs scored by these cricketing legends. Their accomplishments have brought national pride and left an unforgettable impression on the world of cricket. So let us see who gains the top spot in the most runs in test cricket list.
Top 10 Indian Players Scored Most Runs in Test Cricket
From Sachin to Gavaskar, here we will list the top run scorers in Test Cricket.
1. Sachin Tendulkar
Sachin is called the "God of Cricket." From the beginning, the world appreciated his potential. People recognised something special about this young man. Sachin had a remarkable 24-year career that started in 1989 through 2013. He earns the top spot in the most runs in test cricket list.
During these 24 years, Sachin has the most runs scored in 200 test matches. This is way more than any other player in test cricket history. He also set a record with 51 centuries. This is the most by any individual in tests. He is regarded as the greatest batsman in history and is rightly the legend that he is.
| | | | |
| --- | --- | --- | --- |
| Runs | Matches | Innings | Average |
| 15921 | 200 | 329 | 53.8 |
2. Rahul Dravid
Rahul Dravid is ranked second in test cricket for having scored the most runs in cricket for test matches. Dravid made his test debut in 1996 against England and had a successful show thereafter. Later, he finally retired in 2012. He was a specialist test batsman due to his calm demeanour, technique, and talent. He boasts of a dazzling average of 52.3. He rightfully takes the second spot in the most runs in test cricket list.
Dravid was an incredible batsman. So much so that he was extremely difficult to remove for the bowlers. He used to tire out the bowlers and could bat all day in a test match. Rahul Dravid has saved India from disasters such as 180* against Australia in Kolkata and 233 against Australia at Adelaide Oval. Dravid is a role model for all next-generation batsmen. Rahul Dravid has faced the most balls of any batsman.
| | | | |
| --- | --- | --- | --- |
| Runs | Matches | Innings | Average |
| 13288 | 164 | 286 | 52.3 |
3. Sunil Gavaskar
Sunil Gavaskar earns the third spot on our list. In 1971, Gavaskar made his stellar test debut. The match was against the West Indies. The world was taken aback by Gavaskar's calibre. He easily defeated the most ferocious bowlers of the day. Some examples include Malcolm Marshall, Michael Holding, Jeff Thomson, and others.
Gavaskar retired from test cricket in 1987. During his 16-year career, he scored 51.1 runs per game on average. At the time, the wickets were heaven for fast bowlers and hell for batters. He is one of three Indian batsmen with over 10,000 test runs. Gavaskar is also the first Indian to have three centuries in both innings of a test match.
| | | | |
| --- | --- | --- | --- |
| Runs | Matches | Innings | Average |
| 10122 | 125 | 214 | 51.1 |
4. VVS Laxman
VVS Laxman has the fourth-highest runs (8781) in tests for India. VVS made his test debut against South Africa in 1996 and played his final test against Australia in 2012. Laxman was a vital member of India's test team. He was a dependable, polished player best renowned for his superb flick shot. VVS scored runs at a solid 45.97 average.
He faced the top bowlers of his era, including Brett Lee, Gleen McGrath, Jason Gilespie, Shoaib Akhtar, Chaminda Vaas, Muralitharan, and others. Laxman holds the record for being not out the most times (34) in tests for India. For the past 9 years, VVS has held the record for the fourth-highest run-scorer.
| | | | |
| --- | --- | --- | --- |
| Runs | Matches | Innings | Average |
| 8781 | 134 | 225 | 45.97 |
5. Virat Kohli
Virat Kohli ranks fifth in most runs scored in Test Cricket. He has been playing test cricket for 9 years and delivered some power-packed performances. He has dominated every format with ease. Kohli is a player who has excelled in every situation and every place. He is a deserving player to be on our fifth spot for the most runs in test cricket.
In the most entertaining format of the game, he averages 49.29. Kohli has scored 29 hundred so far. After being defeated by New Zealand in the recent World Test Championship final, Kohli-led India lost the match.
| | | | |
| --- | --- | --- | --- |
| Runs | Matches | Innings | Average |
| 8676 | 111 | 187 | 49.29 |
6. Virender Sehwag
Former Indian explosive opener Virender Sehwag has scored the sixth most runs in cricket in the longest version of the game. He made his debut test appearance against South Africa in 2001. Sehwag finally retired from international cricket in 2013. He is the only opener with a batting average of 49.43. This is recorded from 2001 to 2010 time period.He used to give every bowler in the world literal nightmares. This is because he would start hammering bowlers from the first ball. He was one of the rare hitters who never changed his batting strategy. He was one batsman that was hard to evict. Sehwag achieved four double-hundreds and two triple-centuries during his Test career. In 2008, he had his greatest game against South Africa. Virender Sehwag gains the 6th position for the most runs in test cricket.
| | | | |
| --- | --- | --- | --- |
| Runs | Matches | Innings | Average |
| 8503 | 103 | 178 | 49.43 |
Also Read: Calling the Shots: The 10 Best Umpires in Cricket

7. Sourav Ganguly
Sourav Ganguly is the next batsman on our list of the most runs scored. Former Indian captain Sourav Ganguly holds a record for high runs scored in tests for India. He continued his batting streak for years. Ganguly finally retired in 2008 and has the 7th position in the most runs in test cricket.
In tests, Ganguly was a dependable middle-order batsman. In test cricket, he batted at Nos. 5 and 6. His test average was 42.17, which was above average. In the longest version of the game, Ganguly has also achieved 16 centuries and 35 half-centuries.
| | | | |
| --- | --- | --- | --- |
| Runs | Matches | Innings | Average |
| 7212 | 113 | 188 | 42.17 |
8. Cheteshwar Pujara
Cheteshwar Pujara is India's current top-order batsman. He comes in the eighth position for scoring the most runs scored in test cricket. Pujara is extremely difficult to escape from.
In a test match, the batting maestro can bat all day. Pujara is nicknamed the "second wall". This is mainly because of his calm demeanour. He has made runs with a remarkable average of 43.60. Pujara is one of those who can wear down bowlers and play selflessly for the country.
| | | | |
| --- | --- | --- | --- |
| Runs | Matches | Innings | Average |
| 7195 | 103 | 176 | 43.60 |
9. Dilip Vengsarkar
The next cricket player on our list is Indian batsman Dilip Vengsarkar ranks eighth all-time in test cricket runs for India. He scored runs at a 42.13 average during a time when wickets were bowler-friendly.
His best score was 166 against Sri Lanka at Cuttack in 1987 from 279 balls. Dilip is only the second player from the 1980s to join the list of India's top ten test run scorers.
| | | | |
| --- | --- | --- | --- |
| Runs | Matches | Innings | Average |
| 6868 | 116 | 185 | 42.13 |
10. Mohammad Azharuddin
Mohammad Azharuddin was an ex-Indian captain. He ranks 10th on our list of the most runs scored in Test Cricket. He has scored the tenth-highest runs in tests for India. Azharuddin's brave, graceful batting was a treat to witness.
He made his test debut in 1984 and last played in 2000. He batted 45.03 per cent of the time. He has over 22 centuries as well as 21 half-centuries in his phenomenal cricket career.
| | | | |
| --- | --- | --- | --- |
| Runs | Matches | Innings | Average |
| 6215 | 99 | 147 | 45.03 |
Online Cricket Betting: Grab the Golden Opportunity on N8!
For cricket fans, online cricket betting has become an enjoyable passion. N8 is the ideal platform to make use of this golden opportunity. As one of the most popular cricket betting sites, N8 provides a user-friendly interface. It caters to the different interests of cricket enthusiasts all around the world.
The best part about N8 Cricket is that it gives users a wide range of betting choices. With in-depth coverage of domestic and international cricket events, every game offers an opportunity to show your cricket knowledge. One of N8's main features is its live betting option.
This adds a level of excitement as the action on the pitch develops. N8 prioritises safety and security. It ensures that consumers can bet with confidence. Our site is licenced and follows strict industry standards. It provides bettors with a secure atmosphere where they can enjoy their betting experience without worry.
N8 routinely offers amazing offers, deals, promos, incentives, and more to new and existing users. These bonuses add value to bettors' bets and boost the possibility of profitable returns. Furthermore, we offer great customer service. Finally, online cricket betting on N8 is a fantastic option for cricket enthusiasts to increase their enjoyment of the game. We offer the best sports betting odds. This ensures you get the best returns for your bets. We also have interesting blogs like 'players with the most runs in test cricket'. These blogs give you a deeper understanding of cricket. In addition, N8 provides a perfect opportunity for bettors to embrace the pleasure of betting safely. So, get ready, put your bets, and enjoy the thrill of cricket on N8!
N8 Cricket Offerings: Quality Markets, Easy Deposits & More!
Bet on cricket with our N8 platform. It provides a wealth of appealing advantages that enhance the betting experience for fans. N8 is one of the leading online betting platforms. We take pleasure in offering our customers a fascinating and rewarding betting experience. Here are some of the benefits of betting on N8.
1. Diverse Betting Markets
N8 Cricket has a diverse betting market. It features a wide range of sports and events from across the world. So, if you enjoy cricket, football, basketball, tennis, or any other sport, N8 offers diverse betting options.
2. Live Betting
We offer customers to place bets in real-time as a sport or event is taking place. This interactive feature adds a dose of excitement. It gives you a chance to capitalise on shifting game scenarios. This results in an immersive betting experience.
3. Competitive Odds
At N8, we attempt to provide the best cricket odds on its betting markets. Find out the most runs in test cricket players and place interesting bets. This ensures that users receive the most value for their bets. Attractive odds can have a huge impact on possible winnings, making N8 betting even more attractive.
4. Generous Bonuses and Promotions
We believe in rewarding our customers now and then. This is why we provide users with an appealing N8 bonus. We have a first deposit bonus, welcome bonus and many more to surprise you!
5. User-Friendly Interface
N8 has a user-friendly interface that makes using the N8 app easier. The user-friendly design improves the entire betting experience. It also allows users to concentrate on easily making bets.
Also Read: How to Bet on Sports for Beginners: 12 Must-Know Tips

FAQS
1. What kinds of cricket bets can I make online?
There are many betting options available for online cricket betting. There is a match winner, top run-scorer, top wicket-taker, total runs scored, total fours/sixes, player performance, and more. Depending on the platform, you can select from a range of bet types.
2. Is it legal to bet on cricket online?
Online cricket betting is allowed in many countries and regions. Before you engage in betting activities, research if it is legal in your area.
3. Is it safe to bet on cricket online?
Reputable online betting platforms like N8 use the latest security procedures to ensure user safety. This is why it is necessary that you bet on reliable platforms like N8 Cricket. This will ensure you have a safe online cricket betting journey.