10 Failsafe Ways To Win At Cricket Betting
October 24, 2022
412 Views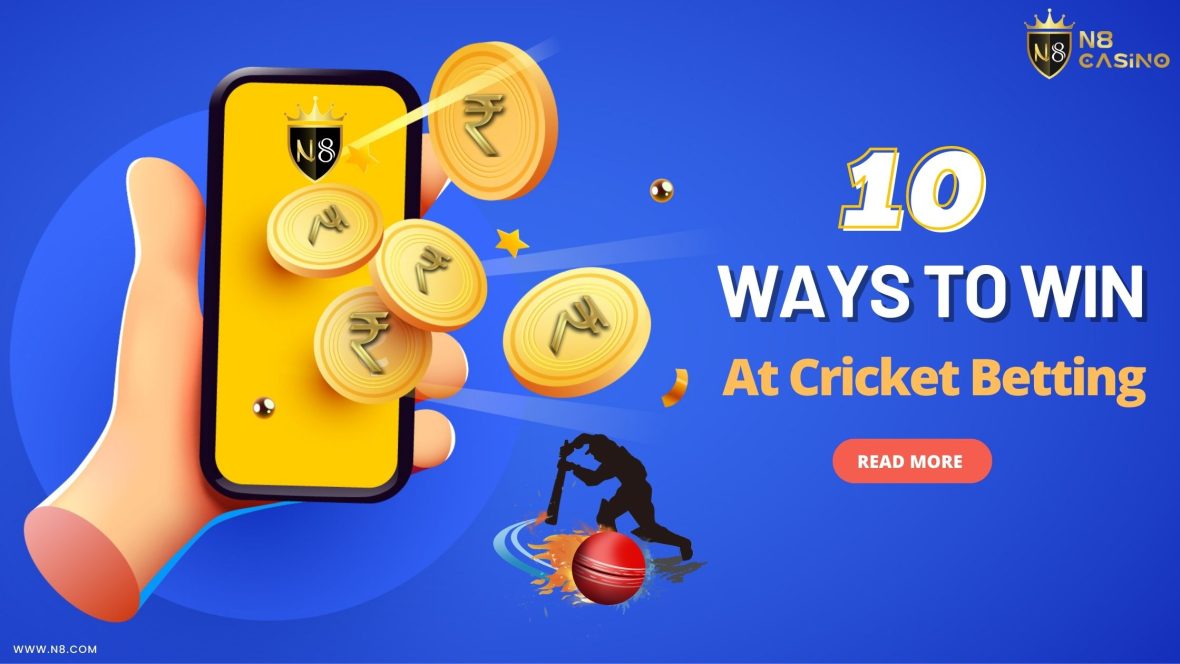 It's one thing to sit back and enjoy a good cricket match. However, betting on cricket and winning is a whole other ball game altogether. Not all cricket betting enthusiasts will find financial success. You need not only a plan and a strategy, but also know the fundamentals of how to win at cricket betting on betting sites.
It takes skill, diligence, and a little luck to be successful at online cricket betting, just like it does with any other sport. You can be one of the lucky few who pull off impressive wins if you're willing to put in the time and effort to understand the ropes.
Unlike with online casinos, however, cricket betting sites do not work if you just sign up, make a deposit, place a few bets, and then anticipate immediate cash flow. If you want to win when using your casino bonus at an online cricket betting site, you'll need more than just a little bit of information.
Whether you're cricket betting noob or a seasoned pro, you'll find some useful advice in our brief tutorial that will help you with 10 ways to win at cricket betting or at least improve your chances of coming out on top.
Be aware of the match conditions
Research the teams well
Choose your cricket betting market wisely
Take advantage of live streaming and in-game betting
Make good use of your welcome bonus
Choose the right betting moment
Don't put all your eggs in the accumulator basket
Anticipate sudden shifts in the play
Place logical bets, not emotional ones
Make sure you choose the best cricket betting site
Be aware of the match conditions
While a little degree of luck is required to win large amounts in cricket betting, it won't get you very far. The ability to place educated bets requires an in-depth understanding of the cricket game. Online cricket betting requires knowledge beyond the rules of the game, keeping score, and choosing the winners.
It's imperative that you acquire more information on the teams, strategies, and individual players involved. Before trading a game, you should also look at the teams' records and game statistics. You may learn a lot about the run rate and total number of innings played by looking at the outcomes from the past.
The pitch used in the game and its condition are other crucial factors to consider. Typically, home teams have a significant advantage. It could be advantageous to play on the same field where they hold their practices. Some playing surfaces are better for bowlers than others, while others are better for batting.
Research the teams well
Betting on a team to win requires considering more than just their recent winning streak. Also take into account how they performed in those games. If, in their last five games, they have wiped the field clean of their opponents on multiple occasions, betting on them to win is a safe bet.
And that is one of the best cricket betting tips you'll find anywhere on the internet. On the other hand, if they've been riding a wave of good fortune, you might want to consider betting on an underdog instead, since luck eventually runs out for everyone. You should also consider how the nature of the pitch affects the players who will be competing.
While some athletes can perform well on any court, others have a much more difficult time. If you're thinking about betting on the match's top run scorer or wicket-taker, for example, it's in your best interest to study those players' statistics in greater detail. You can find anything you need to know about anything on the Internet, so it shouldn't be too much of a hassle. Putting in that little bit of extra work can greatly improve your betting success.
Choose your cricket betting market wisely
After detailed research, you should be familiar enough with cricket to spot valuable odds among the many betting markets offered by bookmakers. We see the sportsbook's wide variety of betting options as a way to increase our chances of success in the long run.
In a test match between Australia and England, for instance, you might not feel confident putting your money on Australia to win. It's difficult to pick a winner between these two teams because of how evenly they match up. However, in this matter, sites like N8 can be of assistance because we often forecast the outcome of games.
A little digging, however, reveals that Steve Smith is the best test batsman in the world right now. This makes it a fairly safe bet that he will finish the match with this many runs. In addition, the difficulty in making accurate predictions means that the odds of such bets are typically high.
Take advantage of live streaming and in-game betting
Watching the game, rather than just keeping tabs on the score, is crucial. The figures can be deceiving at times.
Consider a situation in which a bowler has repeatedly struck at the edge of the batter, only to see the ball run to the boundary or fall safely out of play. If you watch the broadcast, you'll see that the batter has been having trouble driving the ball down the middle and is in a pinch. However, if you're just keeping score, you'd never know it because all you'd see is that the batter was taking the bowler for boundaries. Because of this, you'll have to adjust how you bet.
Live-streaming is, therefore, crucial, and that's exactly why N8 Sports offers live cricket streaming. Equally important is understanding how in-play betting works. Once you do, you can see the oddsmakers adjusting their lines in real time.
Betting during a game's progress necessitates a higher level of skill and familiarity with the game, as the constantly shifting odds can tempt even the most seasoned bettor to place a bet that could go disastrously wrong.
Here's such a scenario. India is playing a lowly ranked opponent, like Afghanistan. They have talent, but the deck is stacked against them. As a result, the odds will shift, potentially in Afghanistan's favour, if someone takes multiple wickets in the same over. India, however, has a deep batting lineup and has proven in the past that they can win despite losing several wickets.
So, while the allure of in-play betting can be great, it's important to arm oneself with a thorough understanding of the process before diving in.
Make good use of your bonus
When you make your first deposit after signing up for an online cricket betting site for the first time, you may be eligible for a first deposit bonus. The size of the betting bonuses depends on the site. The first step in this process is to ensure that you are familiar with the bonus; carefully read over the terms and conditions.
Specific matches are ineligible for participation in certain offers. Some of them include a period of time. It is important that you be aware of it before placing any bets.
There are certain existing customer offers that are typically presented to the bettors as a kind of gratitude for participating in the game. In either case, you should make it a priority to read through the terms and conditions.
Choose the right betting moment
Because the odds are constantly shifting, it isn't always easy to determine when the best time to place your bets is. Our recommendation for this situation is that you should place your chance only when you find odds that are acceptable to you.
If you place a bet in advance and then discover that the odds have increased the following day, there is nothing you can do to change the situation, so there is no point in complaining about it. Take a little bit of time and read some of the betting guides on the N8 blog if you aren't really sure about your bet and how your emotions are affecting it.
Since you were willing to accept the odds the day before, you shouldn't let an increase in those odds bother you, as you were willing to accept them the previous day. If it turns out that your chance was correct, all you need to do is withdraw.
Don't put all your eggs in the accumulator basket
Don't know what an accumulator bet is? The accumulator is a type of bet that involves more than one selection being bet on. In order for this bet to come out on top, each selection has to come out on top.
Are you considering making an accumulator bet by selecting all of the best teams in the competition? This is not a fast route to financial success. In comparison to other types of bets, the odds of losing are significantly greater.
Utilize effective bankroll management if you are considering placing an accumulator bet. Be careful not to invest an excessive amount of your betting into this strategy. Instead, make some options that are less risky.
Anticipate sudden shifts in the play
Why? Because that's the nature of cricket. This sport almost always has some sort of unexpected twist happen during play, and upsets against extremely long odds are commonplace. In Tests, teams frequently neglect to chase down allegedly easy targets and the draw is frequently traded incredibly short before the pitch abruptly deteriorates.
In a similar vein, major surprises are commonplace in the runs total markets. It's not uncommon for a side to lose their final five wickets for less than 50 runs. However, in T20, it is not uncommon for a team to score 70+ runs in the final five overs. In any case, bets placed at very low prices will end in defeat.
Place logical bets, not emotional ones
That's because you want the best for your team. In fact, your desire for their success could lead you to overestimate their odds of victory. In this situation, you can't make a rational decision about your bet and must instead follow your gut. Cricket betting sites are thrilled by this since every year sports fans stake billions of dollars on their favourite teams to win.
Consider the odds carefully before placing a bet on the outcome of a cricket match. How good are your team's realistic odds of winning? If you come to the conclusion that it is extremely unlikely, you should move your money to another bet. You should also stay away from betting on sports involving bitter rivals. The reason for this is that, as the saying goes, "form goes out the window" in games of this nature.
The players appear more motivated when they have more to gain in terms of prestige as a result of the increased stakes. In any event, if you didn't bet on your team and they ended up winning unexpectedly, you could have lost, but you can take tremendous solace in the fact that they defied the odds.
Make sure you choose the best cricket betting site
You have a number of options to select from when it comes to places to place bets on cricket in India. Choosing the appropriate one can be a challenging decision that involves a lot of careful consideration of many aspects surrounding the functioning of the betting website, such as the site's banking options, the amount of free bets it offers, bonuses, offers and the quality of its customer support.
We might be a tad biased, but in our opinion, the N8 sports betting website backed up by the N8 App ticks all the boxes of what you'd want in a cricket betting site.
N8 Games is a well-known name in India as a top-tier online cricket bookmaker. Betting on famous Indian sports like kabaddi, horse racing, and cricket are all offered on this website, which caters to Indian customers by accepting Indian rupees, allowing payments via standard Indian banking methods like UPI, providing customer care in local languages.
At N8 Sports, you'll be eligible for a first deposit bonus, daily bonuses and other special cricket bonuses making it one of the sites that offer the best bonuses in India. Few other cricket betting sites can match that deal!
Frequently asked questions on how to win at cricket betting
How do I win cricket betting?

The key to winning money on cricket betting is thorough research preparation. Always do this before putting down money on a bet. Look at the numbers, the rosters, the players, the weather, the head-to-head, and everything else that could make a difference.

How do I always lose money on cricket betting?

Your betting approach probably has some fundamental flaws that need to be addressed. When placing a bet, exercise increased caution. Make an effort to maintain your composure and thoroughly consider each of the available alternatives.

How can I earn money in cricket betting?

The most important among many cricket betting tips are

Manage your bankroll well
Look at how the teams have played in the past and players current forms
Pay attention to the weather reports.

Do keep in mind that even the best cricket predictions can't be right all the time, so don't bet too much on a single match, even if you are almost sure of the outcome.