T20 World Cup Betting Guide 
October 10, 2022
671 Views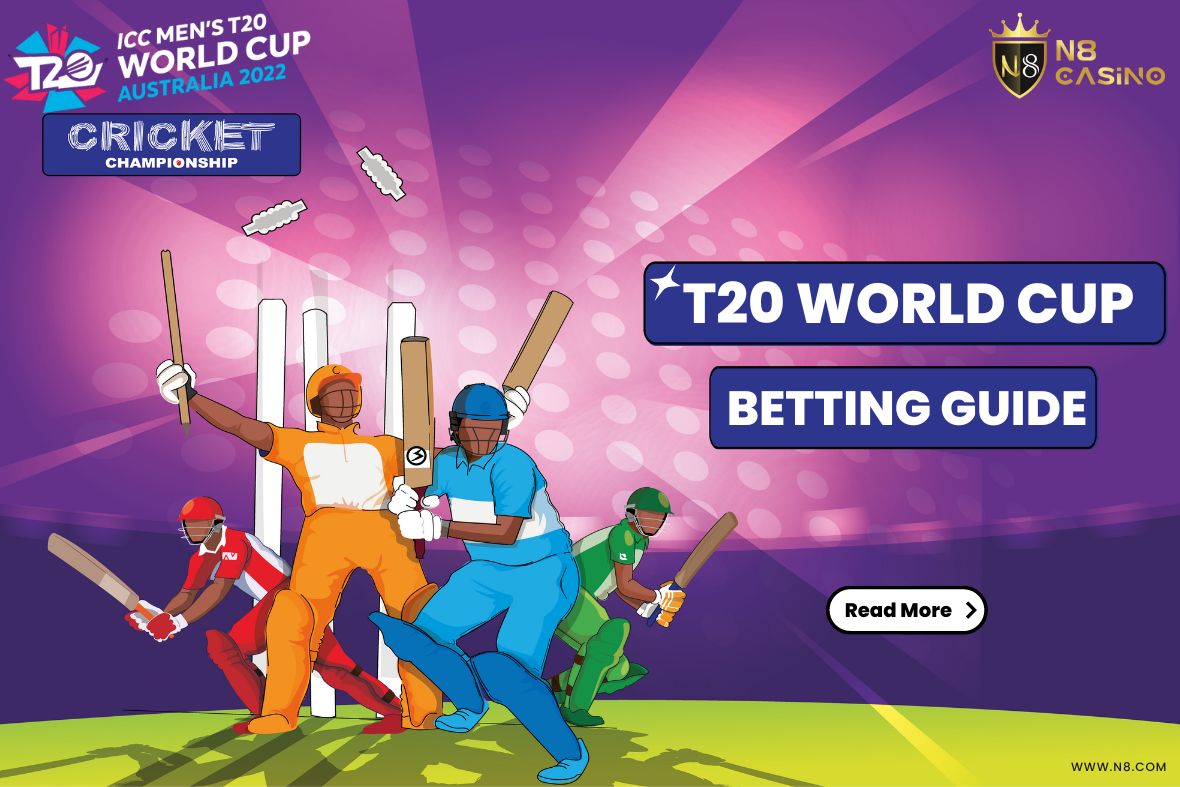 In this comprehensive guide, we'll cover all you need to know about the forthcoming 2022 ICC Men's T20 World Cup. We'll walk you through the mother of all T20 cricket tournaments that will be held in Australia in October and November. You'll discover how to locate the finest betting markets for the ICC T20 World Cup 2022 and how to interpret T20 World Cup odds. Furthermore, we'll teach you what to look for in match markets and how to get the greatest experience possible when betting on the popular sport of cricket in India.
How to start with betting on T20 World Cup 2022
To begin betting, you must first pay close attention to the T20 World Cup odds, since they are the most crucial factor to consider as a cricket punter. The betting platform determines the odds – as a result, some have better and more favourable odds than others.
N8 Games is a complete betting site that covers a wide range of sports, but cricket is its primary speciality, therefore you'll get the world's best cricket world cup odds on N8. There are also odds on all other national and international cricket tournaments across the world. N8 Games is also India's favourite online cricket betting for IPL bets!
Now that you've zoned in on the top online cricket betting site, the next step is to decide which team or market to place a bet on. That will be explained in the next part, which will concentrate on how to effectively place a bet on N8 Sports.
T20 World Cup 2022 Teams
| Teams | Captain | Highest T20 World Cup Finish |
| --- | --- | --- |
| Afghanistan | Mohammed Nabi | Super 10s |
| Australia | Aaron Finch | 2021 WINNERS |
| Bangladesh | Shakib Al Hasan | Super 8s |
| England | Jos Buttler | 2010 WINNERS |
| India | Rohit Sharma | 2007 WINNERS |
| Ireland | Andrew Balbirnie | Super 8s |
| Namibia | Gerhard Erasmus | Super 12s |
| Netherlands | Scott Edwards | Super 10s |
| New Zealand | Kane Williamson | Runner Up |
| Pakistan | Babar Azam | 2009 WINNERS |
| Scotland | Kyle Coetzer | Super 12s |
| South Africa | Temba Bavuma | Semi Final |
| Sri Lanka | Dasun Shanaka | 2014 WINNERS |
| United Arab Emirates | C P Rizwan | First Round |
| West Indies | Nicholas Pooran | 2012 & 2016 WINNERS |
| Zimbawe | Craig Ervine | First Round |
T20 Cricket Betting Strategies and Top Match Markets
Before betting on any of the Cricket World Cup 2022 betting markets, it's important to understand how they function. Pre-game betting, live betting, and outright betting are the three major betting markets. All of this will be explained in depth in the following sections.
Aside from these large betting markets, there are other smaller ones, with popular alternatives including:
Top bowler
Place a bet on whom you believe will be the tournament's top bowler. For instance, if you believe it will be Bumrah, look up his name and put a wager on him.
Top batsman
Place a bet on whom you feel will win the prize for the best batsman. Locate the T20 World Cup odds and put your wager!
Team with the most sixes
This one is self-explanatory as well: which team will have the most sixes at the end of the tournament?
Whatever style of betting you like, you can be confident that it will be accessible on N8 Sports for the 2022 Cricket World Cup and every other significant event in cricket.
Of course, the same bets are also available for individual matches, so you may bet on the best bowler or batsman or the side with the most sixes in the forthcoming match between India and Pakistan. Man of the Match is maybe the most popular single-match betting market. It allows you to bet on a player who you believe will have the largest effect on the game.
ICC T20 World Cup 2022 schedule
Date
Match
October
16-Oct
Sri Lanka vs Namibia
16-Oct
United Arab Emirates vs Netherlands
17-Oct
West Indies vs Scotland
17-Oct
Zimbabwe vs Ireland
18-Oct
Namibia vs Netherlands
18-Oct
Sri Lanka vs United Arab Emirates
19-Oct
Ireland vs Scotland
19-Oct
Zimbabwe vs West Indies
20-Oct
Netherlands vs Sri Lanka
20-Oct
Namibia vs United Arab Emirates
21-Oct
Ireland vs West Indies
21-Oct
Scotland vs Zimbabwe
22-Oct
Australia vs New Zealand
22-Oct
England vs Afghanistan
23-Oct
Winner Group A vs Runner-Up Group B
23-Oct
India vs Pakistan
24-Oct
Bangladesh vs Runner-Up Group A
24-Oct
South Africa vs Winner Group B
25-Oct
Australia vs Winner Group A
26-Oct
England vs Runner-Up Group B
26-Oct
New Zealand vs Afghanistan
27-Oct
South Africa vs Bangladesh
27-Oct
India vs Runner-Up Group A
28-Oct
Afghanistan vs Runner-Up Group B
28-Oct
Australia vs England
29-Oct
New Zealand vs Winner Group A
30-Oct
Bangladesh vs Winner Group B
30-Oct
Pakistan vs Runner-Up Group A
30-Oct
India vs South Africa
31-Oct
Australia vs Runner-Up Group B
November
1-Nov
Afghanistan vs Winner Group A
1-Nov
England vs New Zealand
2-Nov
Winner Group B vs Runner-Up Group A
2-Nov
India vs Bangladesh
3-Nov
Pakistan vs South Africa
4-Nov
New Zealand vs Runner-Up Group B
4-Nov
Australia vs Afghanistan
5-Nov
England vs Winner Group A
6-Nov
South Africa vs Runner-Up Group A
6-Nov
Pakistan vs Bangladesh
6-Nov
India vs Winner Group B
9-Nov
Semi-Final 1 (TBA vs TBA)
10-Nov
Semi-Final 2 (TBA vs TBA)
13-Nov
Final (TBA vs TBA)
Pre-Match Betting on World Cup
Pre-game World Cup match betting allows you to place bets on cricket teams and individuals before the match begins. All betting choices are closed once the game begins, so you must wait until it is over to see if you made the right decision. You may place bets beforehand since pre-match betting options are accessible long before the World Cup officially starts. Please remember that the T20 odds may change as the tournament draws near, since betting sites use all required information to calculate probability and offer betting odds to players.
Betting on the winner is the most prevalent sort of pre-match betting. In the 2018 World Cup, India will meet Pakistan, and if you feel India will win, you may bet on the Indian squad. If it occurs, you will win the wager depending on the odds given.
Of course, there are several additional pre-match betting alternatives, and some relatively small betting markets discussed in the preceding section are also available as pre-match wagers. As a result, it is up to you to thoroughly examine the forthcoming games and analyse the odds available on N8 Sports in order to choose the best possible option for pre-match betting.
T20 World Cup Outright Betting
If you select outright bets, you must make predictions about the final outcome of the whole tournament rather than an individual match. In other words, you'll be betting on the World Cup 2022 winner. For example, if you believe India will win the forthcoming championship, check the T20 World Cup odds on N8 Sports and place a stake.
Who will win the World Cup in 2022? Can India replicate its 2007 success and become global champion? Will Australia take advantage of its home advantage and win back-to-back titles? We won't divulge our favourites, but you can certainly look at the odds for the outright bets available on N8 Sports and see what the stats say.
Please keep in mind that outright betting will be allowed until the commencement of the competition. Online cricket betting sites will modify the odds based on every piece of information that we receive because it will be unclear which players will participate. In other words, the odds may alter in the following weeks as we learn more about the event.
World Cup 2022 Live Betting
World Cup live betting (also known as in-play betting) allows you to place bets while the game is in progress. N8 Sports allows you to bet live on several prominent World Cup matches – of course, you must wait for the action to begin in order to put your bets.
Once a match has begun, you'll need to check live betting options online to find the live World Cup betting options. The contest will thereafter be updated in real time. You'll also get a thorough data breakdown to assist you place a live bet.
The current World Cup odds won't matter so much in live betting, as they change all the time based on many factors during a live match. So, in order to experience the true thrill of live betting, you'll need to move swiftly and occasionally even rely on your intuition. Of course, it's also essential to stay cool-headed and not let emotions dictate your bets, as you want to minimize making illogical wagers — especially when betting on live cricket matches.
How to choose the best T20 World Cup betting site
There are several T20 ICC World Cup betting sites available, but not all of them are worth your time or money. Even if we omit the sites that are outright frauds, we are left with a plethora of choices that just do not provide cricket fans with competitive odds and a satisfying betting experience. This is why we've made a list of the most crucial aspects to keep in mind when selecting a betting site:
Examine whether the sports betting site has all of the necessary security processes and appropriate regulator licences. Furthermore, study professional reviews to learn more about its history and general credibility.
It is usually preferable to play on an Indian-friendly site that allows rupee deposits. As part of it, N8 Sports is collaborating with the leading payment option providers in India for your convenience.
Even if you are a novice gamer, you should not limit yourself to betting exclusively on match winners. As a result, look for a site that offers more betting possibilities for the sport you wish to bet on.
Before major events, betting sites frequently offer numerous promotions. If they're into football, for example, you'll notice a lot of football promotions. As a cricket enthusiast, you should look for a platform that offers a variety of cricket promotions, including World Cup deals.
Check if common payment options are accepted on the website of your choosing. This allows you to make deposits and withdrawals quickly and effortlessly. Take note of the deposit and withdrawal times, as well as the minimum and maximum betting limitations.
If you want to wager on cricket, you should look for a service that has good cricket odds. Of course, if you're interested in other sports, look at the odds for those as well – they may be competitive as well.
Why choose N8 for betting on World Cup 2022
N8 Sports is your best cricket betting companion. Once you register with N8, you'll have access to a variety of sports, the most important of which being cricket. Furthermore, you will be able to collect N8 promotions and bonuses. You can also watch live matches on N8 Games during the World Cup. You can download the N8 app for anytime, anywhere World Cup betting. Join the N8 ICC Sports World Cup frenzy right now by becoming a member, and enjoy cricket the way it was meant to be experienced – with a complete variety of betting options at competitive odds.
ICC T20 World Cup 2022 FAQs
Who will host the T20 World Cup in cricket in 2022?

The 2019 T20 World Cup will be held in Australia, which is also the reigning champion.

How can I bet on the T20 World Cup?

The T20 World Cup will be extensively covered on N8 Sports, so feel free to investigate various pre-game betting choices or enjoy live betting on matches once the event begins.

What is the T20 World Cup 2022 schedule like?

The T20 World Cup 2022 begins on October 16 and ends on November 13. The final will be played at the famous Melbourne Cricket Ground (MCG) in Melbourne.

How many teams will compete in the T20 World Cup in 2022?

The ICC Men's T20 World Cup 2022 will include 16 international teams competing in 45 matches.

Which teams have the best odds of winning the ICC T20 World Cup?

Based on recent team and player performances, we believe India, Sri Lanka, England, and New Zealand are the teams with the best odds of winning the ICC T20 World Cup.