The Only FIFA World Cup Betting Guide You Need
November 11, 2022
683 Views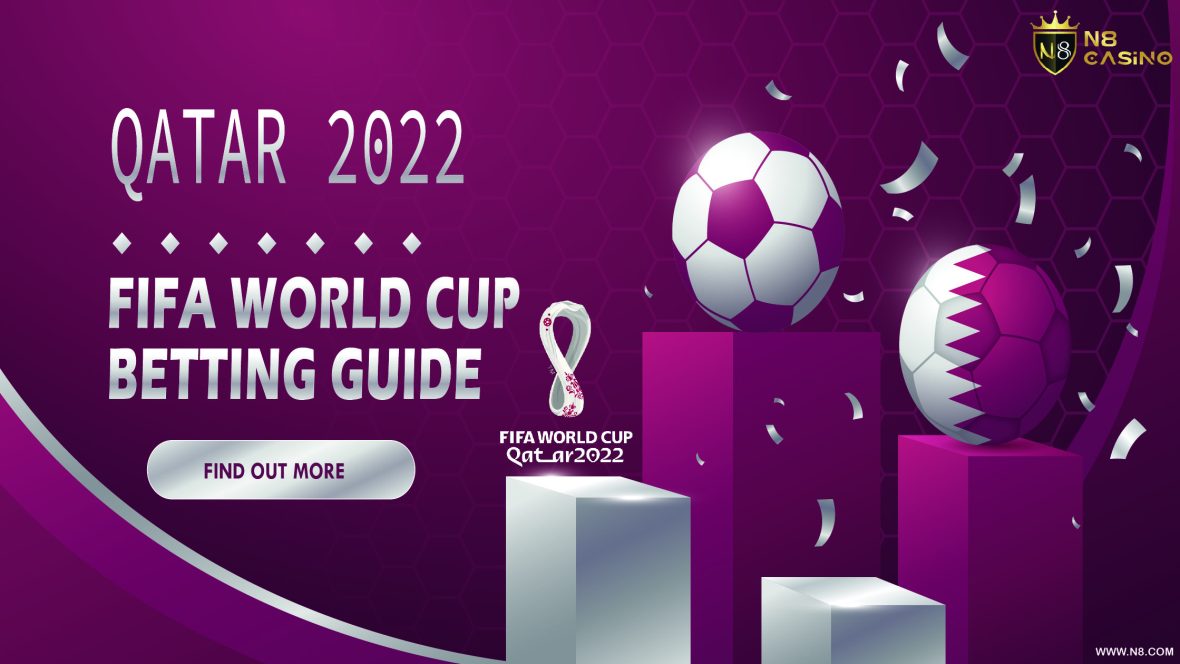 The countdown has begun for the 2022 FIFA World Cup in Qatar, the first to be held in the Middle East and the first to be held in the winter of a European season. 32 nations compete in eight groups, with hosts Qatar starting off the tournament on November 20 against Ecuador at the Al Bayt Stadium. Because the FIFA World Cup attracts so many viewers, it's only natural that it's a major betting event.  N8 has put together a comprehensive guide for all you need to know about FIFA World Cup betting.
FIFA World Cup 2022
The FIFA World Cup is the second largest sporting event in the world, after the Indian Premier League. Its viewership numbers are higher than those of the Olympics and higher than those of any other single popular sports tournament.
Every four years, the top national football teams in the world compete for the title, and about half of the global population watches. This year's event, the 22nd, is scheduled to be held in Qatar, and fans can't wait to see superstars like Cristiano Ronaldo, Kylian Mbappe, Kevin De Bruyne, Lionel Messi, Vinicius, and many more in action.
A lot of people, not just players and coaches, are getting ready for the 2022 FIFA World Cup. People who bet on the beautiful game are as eager as the hordes of spectators, journalists, sponsors, and players. Since soccer is one of the most bet-on sports worldwide, the World Cup is the height of betting excitement.
Therefore, football betting sites are flooded with bettors during the FIFA World Cup, so they go above and beyond to provide higher odds, more lucrative promos, and a wider range of markets than they would for a typical sporting event.
You're in for a real treat if this is your first time betting on the FIFA World Cup. For those interested in learning more about it before it begins, N8 has compiled an in-depth blog with all the information you need on FIFA World Cup Qatar 2022.
More about FIFA World Cup Qatar 2022
Almost everyone participates in the World Cup frenzy. Each of the 32 qualifying countries' fan bases holds out hope that their team will win the championship and bring the country lasting glory.
There are several reasons why the 2022 FIFA World Cup will be remarkable. Specifically, it is just the second tournament ever hosted in Asia, and the first in the Arab world (the 2002 FIFA WC took place in South Korea and Japan).
The unusual timing of the tournament—21 November–18 December instead of the more common summertime—is another distinctive feature. This is because Qatar experiences extremely high temperatures during the summer (averaging 41.5°C in July). This will also be the last World Cup with 32 teams, as FIFA has announced plans to invite an additional 16 countries to participate beginning in 2026.
It's a common dream for every nation to win the FIFA World Cup, but only a handful of those teams have a shot. Brazil, England, France, Spain, Argentina, Germany, Belgium, Portugal, and the Netherlands are among the favourites to win this year's tournament.
FIFA World Cup betting
Sportsbooks across the board take advantage of the FIFA World Cup's massive popularity by offering betting on every game and the whole tournament. In spite of the fact that their country isn't participating, many Indians enjoy watching and making predictions about the FIFA World Cup.
If you wish to bet on the FIFA World Cup 2022 with the finest odds and market variety available, then N8 Games is your place. We've established ourselves as India's premier online betting destination, and not just for the World Cup and football. We take in the least amount of commission and offer the best betting bonuses, including ones tailored to the FIFA World Cup.
Match betting, double chance, halftime betting, total goals, and all the other usual markets are all available, but there are also some more out-there alternatives available. Moreover, you can bet on a specific player to either score a goal or finish as the tournament's top scorer.
Of course, you can also place bets on World Cup matches as they're happening. We provide live streaming of FIFA matches with a wide variety of markets with the best betting odds.
FIFA World Cup 2022 betting tips
Risk is inherent in betting on the spread
The most popular sports for point spread betting are American football and basketball. The process of betting against the spread in a soccer game is more complex. Sometimes you'll see a club favoured by 0.5, which implies they need to win by exactly one goal for your bet to pay off. You can probably lay the spread with relative ease in those situations.
However, it's not safe to go above a 0.5. It's one thing to expect a team to win, but it's quite another to expect them to win by more than two goals, especially considering how difficult it is to score goals. Do the French have what it takes to win by at least two goals against Saudi Arabia? Absolutely. Still, it's risky to count on an opponent scoring several goals, therefore it's probably advisable to come up with a different strategy.
Parlays can be very lucrative in the group stages
Making a winning parlay bet is always a good idea. Even though the World Cup is supposed to match the 32 best teams in the world against one other, there is still a huge gap in skill level between the top and weakest sides.
Take a look at some of the group stage matchups we're getting. East Germany-South Korea? Spain-Iran? Belgium-Tunisia? It's the World Cup, so anything can happen, but these matchups look rather unfair. In the group stage, you can take advantage of some of the weaker teams. You can make a parlay with bets on these heavy favourites before the knockout rounds grow more challenging.
Utilize the odds to your advantage
Any sports betting guide will tell you to bet against the spread, but the World Cup adds a new wrinkle. When it comes to the World Cup, many bettors follow their emotions rather than their heads and put money on a team they believe will win. This ties along with the concept of patriotism.
You are not betting against the house, but rather against other players. Most casual bettors play on the result they hope will occur rather than the one they believe has the best chance of happening. The key to long-term success is adopting a more analytical mindset. There is nearly always value in betting on a game to end in a tie, even if no spectator likes to see the winners split the prizes.
Don't be swayed by big names
The same teams would likely come up again and again if you polled casual soccer fans on the street about who they think will win the World Cup. Europe, South America, South America, etc. While all of these teams have tasted World Cup success before, it would be foolish to allow that success to determine how they perform in the future.
In-play betting has value
It's important to remember that you may always make a fresh bet during play if your pregame bet isn't going as planned. Live betting adds a new dimension of excitement to the action and gives you the option of hedging if your first bet looks like it might lose money.
Follow teams' international standings closely
While it's true that ranking teams isn't an exact science, keeping track of where experts evaluate various teams can help you make informed bets. Even though they are one of the teams stated above that attracts a lot of bets, England are now rated 16th in the globe. However, England is still one of the favourites to take home the trophy in Qatar.
Don't put in too much effort too soon
As we discussed, there is a lot of upside to betting on the group stages, but you shouldn't put all your eggs in that basket right away. Another piece of advice that is relevant to the World Cup is to be careful with your finances. As the tournament progresses, more and more people will bet large sums of money on their country's squad to win games.
The farther in the tournament you reach, the more casual and unskilled bettors there are, despite the fact that the matchups have only gotten better as the competition has progressed. This is particularly the case if a well-known but underperforming team like England or Mexico is still in the running. It's also wise to boost the ante later in the tournament rather than earlier, as a powerhouse like Germany might coast in their third group game if they've already qualified for the knockout phase.
There might be quite a few sleepers
Though familiar names like Germany and Brazil tend to dominate the World Cup, it doesn't mean there won't be surprises. Betting against such teams is obviously a bad idea, but early-round underdogs can prove profitable.
Avoid future bets
Futures betting has the potential to pay out, but there is a lot of danger involved in betting on a team so far in advance. First, these national teams don't typically compete against one another very often. They'll put in a lot of practice time before the big game, but it's impossible to know how well a team will mesh together in practice until we see them in action.
If you must bet, it appears that single-game bets or in-game props offer the most value, whereas futures should be avoided if at all possible.
Keep the weather in mind
It's easy to forget, but the weather always has a major impact on how a game is played. If the game is being played on a sunny day with temperatures about 70 degrees, there is minimal cause for alarm. Scoring will be significantly more challenging if the temperature is 40 degrees and it's raining during the game. Goalkeepers have more room for error while dealing with a slippery ball.
FIFA World Cup Betting odds
Current odds from N8 indicate that there are a few clear frontrunners for the 2022 FIFA World Cup.
The host country, as usual, will be competing in Group A, but it is not among the favourites to advance to the knockout stages. Instead, the oddsmakers currently favour the Netherlands and Senegal. One of the teams that might potentially win the cup is England, and they were drawn into a group with two other nations that should be relatively easy wins: Argentina and France.
Sadly, though, we also have a death cluster. Group E of the World Cup is expected to feature two heavyweights, Spain and Germany, together with an underdog in Costa Rica and one of the strongest Asian teams in Japan, according to the betting odds.
It's expected that Brazil will be one of the favourites to win the tournament. The group stage won't be simple, though, as the team has been surprisingly placed in the same group as Switzerland and Serbia as in 2018. Both of these teams have impressed throughout the qualifying stage. Moreover, they are determined to exact vengeance, primarily on one another but not excluding Brazil.
Brazil is currently the favourite to win the World Cup based on our odds. However, neither England nor France lags too far behind. Odds for England to win and for the defending champions are currently available.
You can utilise the tremendous odds to your advantage by betting on underdogs, as it is far from definite who will win the FIFA World Cup. No one expected Croatia to advance past the Round of 16, but they did, and they went on to win the 2018 World Cup.
Current chances favour Spain and Germany too. Both have consistent high probabilities of advancing to the finals, so you may want to take advantage of them now before the odds decrease. For the best betting incentives, including those tailored to the FIFA World Cup, come to us.
However, success isn't solely measured by the number of winners. For the upcoming 2022 FIFA World Cup, N8 offers a wide range of solid odds on a number of outright bets. Excellent odds on the group winner, odds on countries advancing to the quarterfinals or semis, and odds on which specific elimination round each country will advance to are just a few examples.

How to bet FIFA World Cup at N8
You'll be delighted to know that N8 has all you need for the greatest FIFA cup betting experience if you decide to start betting with us during the World Cup.
When it comes to Indian sports betting sites, N8 Games is a top pick. Many different banking options are available to you so that you can fund your betting exploits with us. These methods can also be used to make withdrawals.
Plus, our mobile- and desktop-friendly website gives you access to a plethora of betting markets where you may place your bets. The N8 app is designed specifically for betting, and you can download it right now to enjoy a seamless FIFA World Cup betting experience.
You can also take advantage of a number of bonuses and limited-time offers that will make your betting even more profitable.
FIFA World Cup FAQs
Can I bet on the 2022 FIFA World Cup?

You can! We've presented numerous World Cup outright odds on N8 Games. We'll also make sure to provide a wide range of betting markets for each match many days before it starts, giving you plenty of time to plan a suitable strategy and place your bets while the odds are still fresh.

How do I bet on the FIFA World Cup?

You need to sign up for an account with N8 before you can bet on the FIFA World Cup. If you already have an N8 Account, you only need to log in. After that, you should make sure you have enough money in your account.

Don't forget to use the bonuses to get more benefits to bet with. After that, all you have to do is find the contest you want to bet on or an outright market you like, click on the odds, put the amount you want to bet into the betting slip, and confirm.

How do I read World Cup betting odds?

The World Cup odds work just like any other odds on our site. In other words, it's easy to figure out how to read decimal odds. The more likely you are to win that bet, the lower the odds. But the bonuses will be less as well.