What Is Fair Play in Gaming and Why Does It Matter?
December 20, 2022
548 Views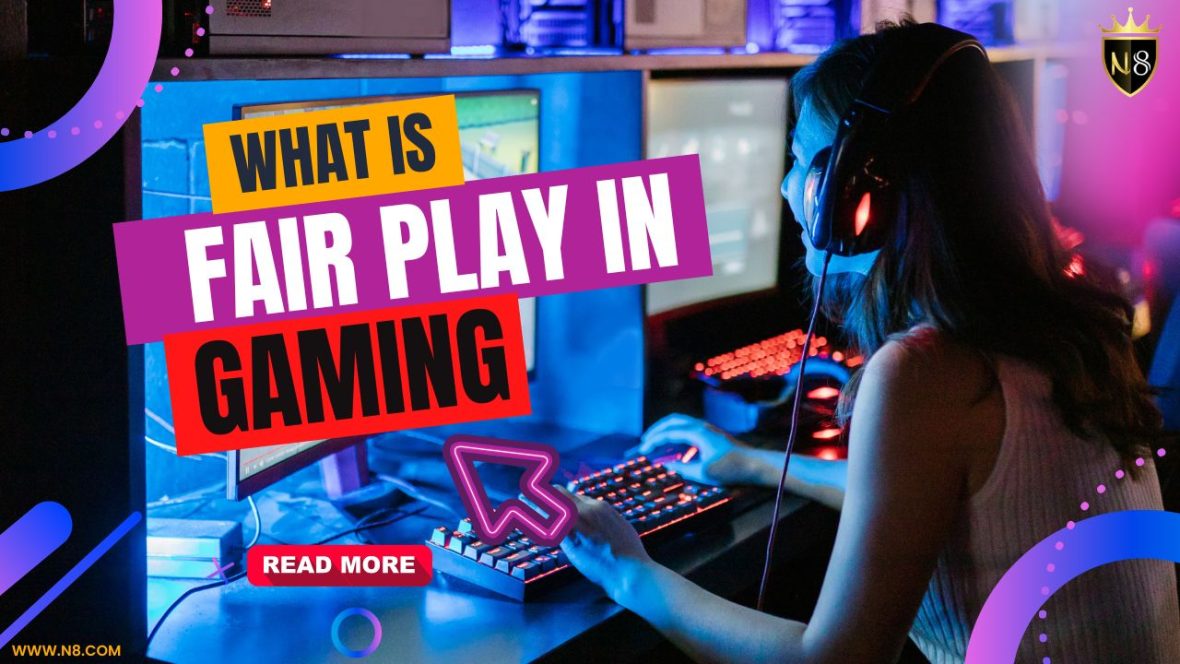 Introduction to the concept of fair play
Fair play is a complicated idea that includes and is based on a number of core values that are important not only in sports but in everyday life as well.
Fair play is built on things like healthy competition, respect, camaraderie, team spirit, equality, sports without doping, and respect for both written and unwritten rules, like honesty, unity, tolerance, care, excellence, and happiness. These things can be learned and experienced on and off the field.
What does fair play mean?
Fair play in a game means that every player has an equal opportunity to win or lose. That is to say, the odds are always the same in any game. This assessment considers the full length of the relevant game.
Fair play in games
The biggest benefit of playing in a fair game is that you have an equal chance of winning as everyone else. Finding a plan to give yourself the same odds as the person who won the jackpot is unnecessary. It makes no difference who played before you or when you'll play. When playing on an even playing field, your odds of winning are the same as those of your opponents at any given time.
Online game fairness is largely dependent on players' adherence to the randomization norm. To put it another way, if everyone plays by the rules, nobody wins.
Obviously, there are strategies that significantly increase your odds of success. However, even under these circumstances, the choice is still provided to all participants equally. There are no preferred participants who should have exclusive access to these features.
Fair play at N8
Many people think it's not safe to play at online casinos. They also don't think the games are fair because they aren't based on real gaming. Random number generators (RNG) control the games at online casinos, and many people who play in real-life casinos think that means they can't be fair. But nothing could be more wrong. The safest and most secure places to play are online casinos. Here are some of the measures that N8 implements to ensure Fair play.
Security
The latest 128-bit encryption technology is used by all of the best online casinos. All sensitive player information, like credit card numbers, bank account numbers, and personal information, is encrypted before it is sent and stored on servers that are safe and have firewalls. So, players can be sure that their personal and financial information is 100% safe and secure at online casinos.
Licensed and regulated
All of the best online casinos have licences and follow the rules. In order to keep their licences, they have to follow the rules about betting in the places that gave them licences. They are expected to keep up with the best industry standards for customer satisfaction, fair gaming, security, responsible gambling, and other things. If they don't meet these standards, their licences will be taken away.
Secure banking
Online casinos make banking 100% safe and secure because they use encryption technology and have a secure https:// with a safety padlock in their browsers. So, players don't have to worry about hackers or cheaters getting their personal information.
There are many safe and secure ways to pay at online casinos, including credit/debit cards, electronic payment processors, Bank Transfer, eChecks, paying by phone, and more. There are no fees for depositing money into or taking money out of an online casino account using these methods.
Privacy policies
The best online casinos have strict rules about privacy that stop them from giving out or sharing player information with other companies. So, players can be sure that their private information will always be safe, secure, and protected at online casinos.
Gambling responsibly
The gambling laws of the place where an online casino is licensed require them to promote responsible gambling. So, online casinos tell their regular customers to gamble in a responsible way. They also offer a wide range of tools to help players gamble responsibly. These tools let players set their own deposit limits, ban themselves from the casino's games, and limit the amount of time they spend gambling.
Stopping gaming by minors and problems
Online casinos also do everything they need to stop people under 18 from signing up to play for real money. They also help players who think they might be getting hooked on gaming by pointing them to groups that help problem bettors and casino addicts.
Fair Play
The software and RNGs used by online casinos are also tested regularly to make sure they are random and correct.
Fair play in sports
To ensure that sports are played and performed in a fair, safe, and pleasant manner, a clear set of rules is necessary at all levels.
There should be no excuse for rule breaking if everyone is aware of them. Rules should be enforced, and those who break them should face consequences.
The purpose of rules and regulations is to maintain order, but they can also improve the experience of the game for everyone.
Players and athletes at all levels, from the recreational to the professional, must familiarise themselves with and adhere to the rules.
Fair play involves a good heart and spirit
Fair play involves more than just following the rules. It also means that athletes have the right attitude and act in the right way.
Being a good sport or displaying sportsmanlike conduct are related concepts.
Respect
Always treat your opponents, teammates, and any officials with dignity and respect.
Friendship
Even if you're playing against one other in a competitive game, you can still show camaraderie off the field. Rivals on the sports field might sometimes become friends.
Modesty
Be modest and humble, but acknowledge your victory. Don't ever try to 'rub it in' or gloat by having an overly ecstatic celebration.
Equality
In sports, it is crucial that everyone competes on a level playing field, because otherwise, results cannot be accurately compared.
Examples of fair play in sports
For the month of September 2016, Olympic triathlete Alistair Brownlee was in second place, behind his brother Johnny. He watched as Jonny slowed down and developed symptoms of heat exhaustion. Alistair's good sportsmanship shone through when he pushed his sibling beyond the finish line.
In the Olympic Games, New Zealand's Nikki Hamblin stopped her own race to tend to her injured adversary, the American runner Abbey D'Agostino. With true "Olympic spirit," Nikki assisted Abbey to her feet and they finished the race as a team.
Fair play in football
Respect is crucial in football, and in any other sport. Good sportsmanship is always remembered fondly by the sports community as a shining example of professionalism. Here are 3 instances of fair play in football.
Jaba Kankava saving another players life
Oleg Gusev's career may have ended in a 2014 Ukrainian Premier League game against Dynamo Kiev and Dnipro. Dnipro goalkeeper Denys Boyko was able to catch a long-range free kick that Kiev had earned.
The problem is that Boyko accidentally caught Dynamo Kiev captain Oleg Gusev in the face, knocking him out. As a result, Gusev may have choked to death if he had swallowed his tongue.
Dnipro midfielder Jaba Kankava, however, rushed to the aid of the comatose Gusev and, in what was widely hailed as a heroic effort, put his hand down the player's neck to clear his airways.
The medical staff quickly escorted Gusev to the sidelines, where he received treatment, and the Kiev captain subsequently appeared healthy as he watched the game from the bench.
In gratitude to Kankava for saving their teammate's life, the Dynamo Kiev players saw him cradling his hand in pain, probably from a cut from Gusev's teeth.
Miroslav Klose confessing a handball goal
As previously mentioned, Edinson Cavani scored a triple trick in Napoli's 3-0 league win over Lazio in 2012. That, however, was not the highlight of the contest, as the attention was instead focused on a fair play by Miroslav Klose, a legendary striker for Lazio and Germany.
When Lazio got a corner kick in the fourth minute, Klose scored to put his team up 1-0. The former German World Cup winner was shown to have intentionally touched the ball before it went into the net in replays.
As the rest of Lazio's players celebrated, Klose approached the referee to explain what had happened. After the verdict was reversed, many of Napoli's players went up to Klose to express their gratitude for his candour.
Apology from Cristiano Ronaldo after he hit a fan with the ball
Ronaldo smacked a fan with the ball in 2011 when he was trying to clear it off the touch line after Real Madrid's 4-0 win over Getafe. The man sustained a broken nose and was attended to by stadium medics, but he stayed in the stands for the rest of the game.
Even though Ronaldo had a hat trick that day, the night will always be associated with the latter event. Ronaldo immediately went to that fan after the game and removed his shirt to give it to him as an apology.
Cristiano Ronaldo, the Portuguese superstar, offered the official a fresh shirt that he had been given by a club employee. Once the shirt was given, the two of them struck a pose for the camera.
Fair play rules for all games
Consequences for failing to play fairly in competitive sports include (but are not limited to) the following.
In football – yellow or red card
In tennis – a warning
Being kicked out of an event
A penalty of time in a car race
In rugby or hockey- being sent to the "sin bin"
A monetary fine or penalty
Points taken away or
Getting banned
Conclusion
True fair play is not abstract. Being fair is a state of mind that shows itself in actions. When we play by the rules, we help create a better world in which everyone can thrive.
The social order we have relied on for so long is in jeopardy if we lose sight of fairness and reliability. We can't have fun with rule-breakers since that would damage the very essence of the game.
Fair play, a crucial component of participation, promotion, and development in sport and in life, can instruct participants to treat others with kindness and consideration. As a result, they are better able to assimilate into society and operate together. When sports are played fairly, it can bridge the gaps that exist between people of different backgrounds, beliefs, and cultures, and even different countries.
In every sphere of life, cooperative effort in the spirit of fair play yields superior outcomes to competitive manoeuvring. Quality of life and general well-being have benefited greatly from its introduction into modern culture.