How to Play Baccarat Online? A Complete Guide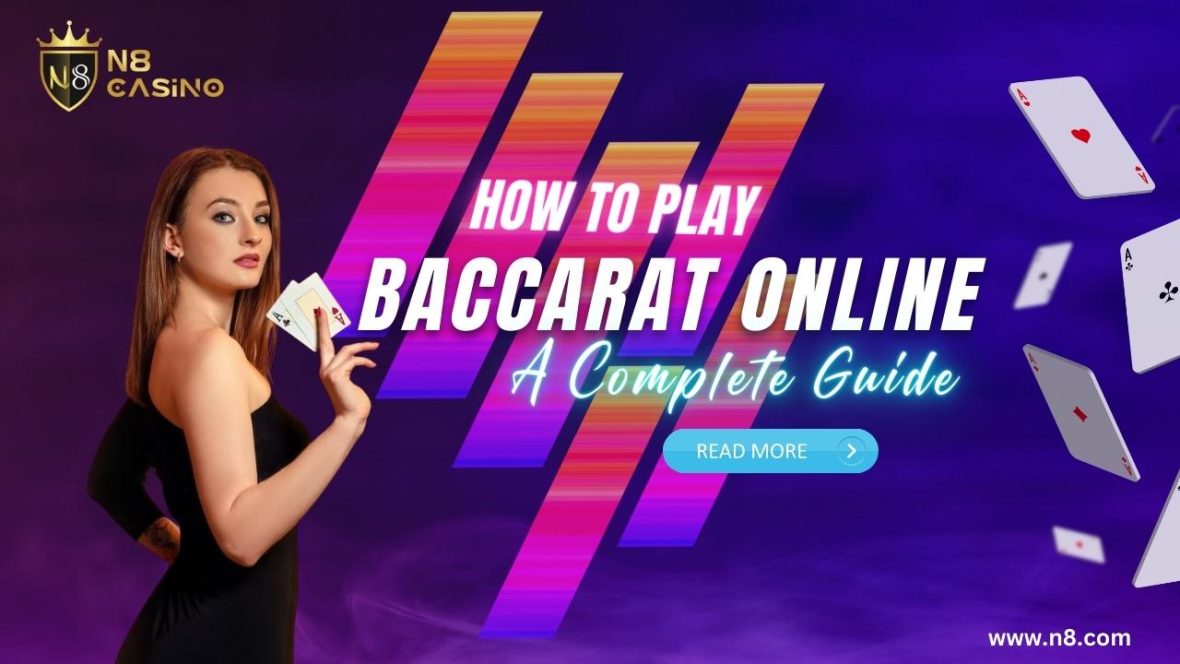 This article is for you if you've ever wondered how to play Baccarat online and win. You'll not only get familiar with the ins and outs of one of the most intriguing games offered by online casinos, but also find out how to maximize your odds of winning before the dealer even deals the cards.
Playing baccarat online can be an exciting experience for beginners, especially when it comes to live baccarat games. Baccarat is a popular card game that has gained immense popularity in online casinos. To play baccarat online, all you need is a reliable internet connection and a compatible device.
The objective of the game is to bet on either the player's hand, the banker's hand, or a tie. The rules are simple, making it accessible to newcomers. Live baccarat games offer an immersive and realistic gaming experience, as you can interact with professional dealers and other players in real-time through high-definition video streaming.
If you're new to baccarat, it's advisable to start with low-stakes games and familiarize yourself with the rules and strategies before diving into higher-stakes games. With the convenience and thrill of playing baccarat online, it's no wonder why it has become a favorite among casino enthusiasts worldwide.
Baccarat History
The origins of baccarat are supposed to trace back to medieval Italy. Though its inventorship is up for debate, most people put the game's inception in the 1400s and a man named Felix Falguierein or Felix Falguiere. Baccara means "zero" in Spanish, thus he gave that name to the game because the value of tens and faces was zero (the French spelling "baccarat" was used later).
The rules of this early baccarat game were somewhat different from modern baccarat. Bets were made against both other players and the house, and four different dealers dealt the cards. Nowadays, there is just one dealer and all wagers are made against the house, which also acts as the game's banker.
Baccarat was brought to France from Italy, where it was termed Chemin de Fer (sometimes spelt 'Chemmy'). The French nobility, including King Charles VIII and his court, enjoyed playing Chemin de Fer for generations.
The English were early adopters of baccarat as well; author Ian Fleming studied the game extensively before inventing the world's most renowned baccarat player, James Bond. Baccarat eventually made its way to South America and the Caribbean, where it was given the name Punto Banco to better fit in with local customs. The key differences were that players now compete only against the casino and that the banker position was off-limits to players altogether. We now refer to this variation of baccarat as "American Baccarat."
The rest, as they say, is history after Tommy Renzoni delivered the game to the Sands casino in Las Vegas in the late '50s. Even while baccarat hasn't become as popular as table games like roulette and blackjack, many casino game players still consider it a game of high distinction and exclusivity.
Baccarat Rules
Let's start with the basics. Baccarat has simple rules that are easy to understand.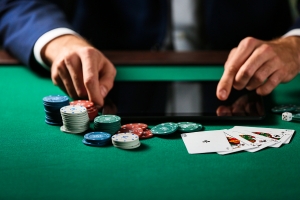 The player's hand and the banker's hand are the two hands used in the game of baccarat.
The goal is to predict which hand will have a higher total value, closest to nine.
Each hand is initially dealt two cards, and more cards may be drawn in accordance with specific rules.
Card values: numbered cards (2-9) are their face value, 10s and face cards are worth zero, aces are worth one.
If the total value of a hand exceeds nine, only the second digit is considered.
A third card may be drawn for the player's or banker's hand based on predetermined rules.
The game is won by the hand with the highest value.
Bets can be made on the player's hand, the banker's hand, or a tie.
Baccarat is a game of chance, and understanding these basic rules will help beginners enjoy the game and play confidently.
How to Play Baccarat Online Step-by-Step Guide
1. Choose your Game
First, go to the lobby of your online casino and look for free baccarat. The majority of good casinos will provide you with an opportunity to try at least one variation.. Most baccarat games can be played right in your browser, on any device you want, such as a desktop PC, a mobile phone, or a tablet.
2. Pick Your Bets
On the free baccarat table, you can see where you can bet and how much you can bet. Choose the amount of the chips you want to use, then drag and drop them onto the parts of the table where you want to bet. You have to click the "Deal" button before the computer will deal the cards.
3. Bet on the Banker, the Player, or a Tie
In baccarat, you can choose between the Banker, the Player, or a tie. The goal of the game is to place a bet on the hand that is the closest to 9 without going over it. The value of an ace is 1, while the values of the other cards are 2, 3, 4, 5, 6, 7, 8, and 9. Picture cards like queens and kings and 10s are worth 0.
If the total value of your hands is a two-digit number, you throw away the first number. So, if Player got 8+4=12, it would be worth 2 points. The 1 is thrown away.
Depending on how much each hand is worth, a third card might be given. If the Player or the Banker has 8 or 9, no more cards are drawn (this is called "standing"). If the player has 5 or less, however, they get a third card (called a "Hit").
The Banker will now decide what to do based on how much their hand is worth. If the Banker has 2 or less, for example, they draw a third card. If the Banker has three cards, they draw a third, but not if the Player has eight cards.
4. Learn about the Payouts
You can choose to bet on either hand when you play baccarat. If a Player bet wins, it pays out 1/1. On a winning Banker hand (1/1 minus a 5% fee), you win 19/20. If you bet that the two hands will end in a tie, you win 8/1.
5. Rebet, Clear Bet, & Double Bet
As soon as the game is over, you'll get your winnings. You can choose to double your bet, make the same bet again, or get rid of all your chips and start over.
Also Read: Become a Call Break Superstar: A Complete Guide

Betting Options for Online Baccarat
Player Bet: You bet on the Player hand to win, with a payout of 1/1.
Banker Bet: You bet on the Banker hand to win, with a payout of 19/20 (minus a 5% commission).
Tie: You bet on both the Player and Banker hands to have the same total, with a payout of 8/1.
Other Bets in Baccarat:
Player Pair: You bet that the first two cards dealt to the Player make a pair, with a payout of 1/1.
Banker Pair: You bet that the first two cards dealt to the Banker make a pair, with a payout of 11/1.
Perfect Pair: You bet that the first two cards dealt to the Player or Banker form a pair of the same suit, with a payout of 25/1.
Either Pair: You bet that the first two cards dealt to either the Banker or Player make a pair, with a payout of 5/1.
Small: You bet that the total cards dealt in a game is 4, with a payout of 1.5/1.
Big: You bet that the total cards dealt in a baccarat game is 5 or 6, with a payout of 0.54/1.
Note: Each bet has its own house edge, indicating the advantage the casino has.
Also Read: 8 Best Online Card Games for New Players

Tips for Winning at Online Baccarat
Always choose the Banker: The Banker bet has better chances of winning compared to the Player bet. That's why it pays out slightly less.
Avoid the Tie bet: It's rare for the Player and Banker hands to tie. Even though the payout is tempting, the odds are not favorable.
Be cautious with side bets: Some baccarat variations offer additional side bets with enticing payouts. However, these bets often have higher odds against you, so it's wise to approach them carefully.
Check the number of decks: Baccarat games can use different numbers of decks. Keep an eye on this, as it can affect your winning chances. More decks slightly increase the advantage for the Banker.
Manage your bankroll: Baccarat may have a low house edge, but it's still a game of chance. Set a limit and avoid betting more than 5% of your bankroll on a single hand. This way, you can protect yourself from big losses and ride out any potential downturns.
The Best Online Baccarat Sites
N8 Casino stands out as the best online baccarat site due to its exceptional customer service, attractive bonuses, and high-quality gaming experience. With a dedicated customer support team, N8 Casino ensures that players receive prompt assistance and resolve any queries or concerns they may have.
Additionally, N8 Casino offers enticing bonuses and promotions, such as welcome bonuses, deposit bonuses, and loyalty rewards, enhancing the overall value and excitement for baccarat players. The combination of excellent customer service, attractive bonuses, and a seamless gaming platform makes N8 Casino the ultimate choice for online baccarat enthusiasts.
1. How do I play online baccarat?
To play online baccarat, you place your bets on either the Player, Banker, or Tie outcome. The dealer then deals two cards to each hand, and the hand with a total closest to nine wins. A further card may be drawn in accordance with predetermined rules.
2. What are the odds of winning in online baccarat?
The odds of winning in online baccarat depend on the bet you choose. The Banker bet has the highest odds, followed by the Player bet, while the Tie bet has the lowest odds.
3. Can I use a strategy to improve my odds of winning online baccarat?
While baccarat is primarily a game of chance, some players use strategies such as the Martingale or Paroli system to manage their bets. However, it's important to remember that no strategy guarantees consistent winnings in baccarat.
4. Is online baccarat fair?
Reputable online casinos use random number generators (RNGs) to ensure fair and unbiased outcomes in baccarat games. These RNGs are regularly tested and audited by third-party agencies to maintain fairness and transparency.
5. Can I use a mobile device to play online baccarat?
Yes, many online casinos offer mobile-friendly platforms or dedicated mobile apps that allow you to play baccarat on your smartphone or tablet. As long as you have an internet connection, you can play the game whenever and anywhere you like.